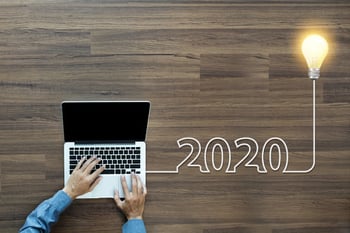 The past year has been a challenging one, and has brought unprecedented changes to many companies. Simplicity VoIP would like to take the opportunity to reflect on the year with a countdown of our most popular blogs of 2020. Check out the list below for the top 3 emerging blog themes of the year, and be sure to follow the links to read the blogs that you may have missed!
3. Work From Home Trends
During the COVID-19 pandemic, we offered a myriad of insight through initiatives, tips, and tricks as the majority of businesses transitioned to a virtual setting. We shared a "Remote Working & Business Continuity" web session as explained in a blog from March. This web seminar provided additional support and guidance to our clients despite the uncertainty of the pandemic. In light of Cybersecurity Awareness Month, the Cyber Security blog gave tips about protecting your personal information and data as a remote worker. We also shared how we purposefully implemented a communications plan to extend beyond marketing messages which became essential during the pandemic; the efforts of our leadership helped combat issues in the virtual workplace.
Top Blogs:
2. Improving Our Solutions Offering: the Simplicity V41 Launch
Simplicity released the new v41 upgrade this year with three pillars in mind: improved efficiency, improved security, and improved collaboration. These blogs highlighted the new features that allow businesses to stay connected across all areas of their companies. These updates were especially important in 2020, when most companies began working from home. Some highlights include a new video conferencing system with SimplicityCOLLAB, a chat & SMS feature, and a reworked contact panel.
Top Blogs:
1. Our World Class Team
The most popular blog of the year came in the form of a Q&A with Larry Sims after his promotion to VP of Network Engineering. Larry discusses how his new position helps all departments, including client services, sales, and marketing, align their work to provide customers with the best experience possible. Lenada Crabb, Director of Simplicity VoIP's Client Services Department, celebrated her 15th year at the company with this Q&A blog about her milestone. Additionally, Simplicity VoIP and Comtel were excited to announce that they had promoted three hardworking, dedicated, and accomplished employees. Lenada Crabb was promoted to Director of Client Services at Simplicity VoIP, Patrick Messick was promoted to the same position at Comtel Communications, and Mike Martin was promoted to a Full-Time Sales Engineer.
Top Blogs:
Be sure to follow along with the Simplicity VoIP blogs in 2021 for more content like this, and to stay on top of what the latest news and trends in the telecommunications industry mean for your business.
Wishing you all the best in the New Year!