7 Benefits of VoIP for Call Centers
Contact centers have gone through many changes over the past decade. They have evolved from a mandatory cost center with entry-level staff to an essential factor of company differentiation, revenue generation, and customer satisfaction.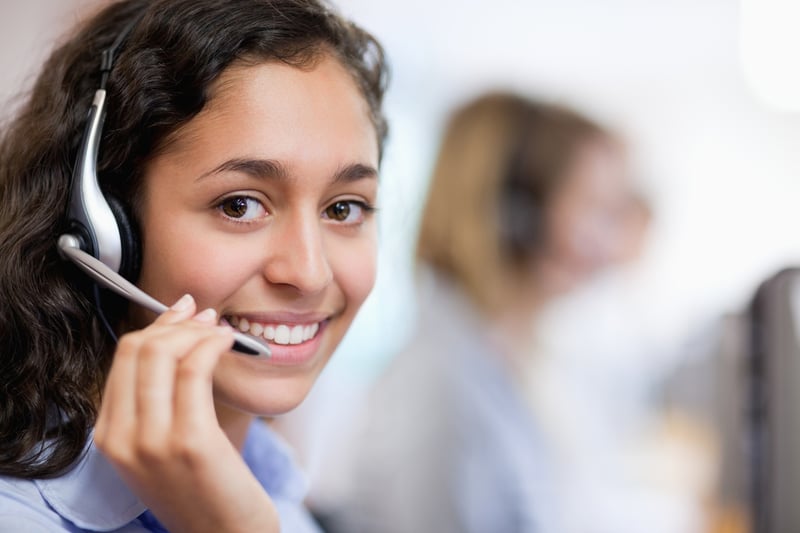 An updated contact center experience is key to a company's success. With Call Center VoIP (an internet-based calling technology), call centers can easily monitor their agents, quickly adapt to changes, prioritize customer service, and let productivity soar. The modern features of VoIP are very user-friendly and offer many benefits that more traditional technologies do not. Below we outline seven key VoIP benefits for call centers.


#1. Cost Efficiency
Traditional communication in contact centers is much more expensive to set up, operate, and maintain due to the high cost of transmission lines, equipment, phones, and calling rates. VoIP is far less expensive than traditional, on-premise phone service. Internet-based technology allows providers to offer services and features at a much lower cost.
VoIP uses your existing internet infrastructure rather than adding an entirely new system or additional hardware, and you can save big on the initial setup. The internet-based technology allows providers to offer even lower monthly subscriptions, which ultimately means a lower monthly bill for your company.
On top of this, digital services can automatically upgrade to the newest technology, which prevents your technology from aging. With VoIP, there is no need to spend more by purchasing new hardware or infrastructure. Better yet, VoIP can allow contact centers to centralize everything needed for high productivity levels.


#2. Unified Communication
VoIP phone service offers all the same features as your traditional phone plan: voicemail, caller ID, call forwarding, three-way calling, and more. VoIP is about making communication between customers, team members, and administrators as simple as possible. Many VoIP providers offer a company-wide, all-in-one platform that allows employees to access their communication needs in one easy-to-use portal.
Unified communication systems streamline tasks like voice calls, SMS messaging, emails, extension mobility, video conferencing, meeting scheduling, screen, and document sharing, business data and analytics, CRM and customer records, faxing, and more. This allows call center agents to interact with customers in whatever way works best, whereas traditional systems only offer voice calls.


#3. Improved Customer Service
Excellent customer service is vital to the success of any business, but it's especially important for call centers. This begins with dedicated employees empowered by attentive training, close performance monitoring, and practical tools.
VoIP for contact centers offers many key features that can be used when training new agents and monitoring existing ones. Features like Whisper enable managers to advise employees while on a call, with the ability to enter the call and offer hands-on assistance if needed.
Call recording also provides the ability to provide employee monitoring and coaching. These features, priority-based call routing, agent availability statuses, and others, can help ease new employees into their roles without compromising customer service or becoming too overwhelming.
The ability to connect to office applications as businesses keep track of customer relationships and customize calls is also important. Centralized phone call notes, customer information, purchase history, and other data are available at employees' fingertips. These tools help quickly connect customers to the right team member and better ensure a helpful and pleasant customer experience.
To further assist with getting customers to the most helpful team member or department, creating and enabling Interactive voice menus (IVR) can be beneficial. These IVRs allow customers to do some work for themselves and leave call center agents free to handle more complicated questions or requests.
IVR systems can handle basic requests such as paying bills, finding account information, routing to the correct department, or finding hours and locations. However, businesses should strive for five or fewer menu options, minimize sub-menu possibilities, and always allow callers to press zero to speak with an agent directly. A poorly formatted IVR menu can frustrate customers, damaging a business's customer service reputation rather than boosting it.


#4. Customizability
VoIP offers many features that can be customized to fit your needs. Adding on to features like IVR menus and connecting to existing applications (such as Microsoft Teams), VoIP can be flexible and customizable when you need to expand or downsize your contact center, move locations, or address any other changes may emerge.
Since VoIP extensions are internet-based, there is no physical hardware or infrastructure. Managers can add and remove users easily to scale their phone service to their workforce.
You can customize other features with VoIP, too, like on-hold music or messages, adding multi-lingual or self-serve menus, and more. All of these features can help elevate the capabilities of your contact center.


#5. Mobility
VoIP is also great for allowing employees to work remotely. Employees using VoIP can make and receive calls on their smartphones, laptop, or desktop, enabling them to work from anywhere. This helps businesses accommodate various needs, changing schedules, and external factors such as weather and recent pandemic restrictions.
One key perk of flexibility is that it allows companies to stay modern and attract potential candidates. Additionally, having the opportunity to build a remote team can keep costs down even as you expand and improve team member retention.


#6. Easily Monitor Employee Performance
KPIs (Key Performance Indicators) can be especially helpful for businesses of all sizes. VoIP service can help you track your contact center's KPIs with in-depth reports of the calls, customer service inquiries and assistance, and commonalities between calls.
With VoIP, you can also monitor missed call percentages by team members or an entire department. This can help managers or administrators ensure that their employees are active and that leads, customers, vendors, or other team members receive sufficient communication and assistance.
Other beneficial statistical figures include calling times, the average time to answer, and availability. Following these metrics allows business managers to oversee their workforce more effectively to keep efficiency and productivity high. Your VoIP provider can help managers build dashboards to display all these key figures in one convenient location.
Adding to the customization and communication benefits, VoIP can connect with standard office applications like Microsoft Outlook, which can further monitor business relationships and performance. For example, by integrating VoIP and other office applications, contact centers could track whether a customer has repeatedly called about the same issue. By monitoring the above, managers can monitor and advance sales and profits, improve customer service, and make traditional processes more efficient.



#7. Better Backups and Infrastructure
There's a reason callers seldom get a busy tone or a voicemail when calling most large call centers. Small businesses are switching to "always-on" call center VoIP technology to improve their reachability and cut downtime losses.
VoIP offers businesses to support, reliability, and reassurance--all of which are often lacking with traditional phone services. VoIP providers offer the proper call configuration that enables frequent backups and minimizes client downtime. Many providers even help businesses create customized backup plans using internet failover and automatic transfers to alternate locations in case of an incident, assisting companies in using call center VoIP to achieve near-zero downtime.
Adopting VoIP provides multiple benefits for your contact center, your employees, and of course, your customers. The seven benefits outlined here are just a few advantages associated with switching from traditional communication services to modern VoIP solutions.