Improving Communication in the Workplace with VoIP
There are many advantages and communication-related benefits as well as opportunities for your team when using a VoIP system.
VoIP in the Workplace
VoIP (Voice over Internet Protocol) allows users to make and receive calls over an internet connection rather than a conventional telephone line. Thus, VoIP communication systems enable users to engage in phone conversations over any device equipped with a stable internet connection (smartphone, laptop, desktop, etc.) and from any location. This comes in handy in our age of remote or hybrid work environments. In the most recent years, VoIP has been gaining popularity among companies across the globe and across industries as well.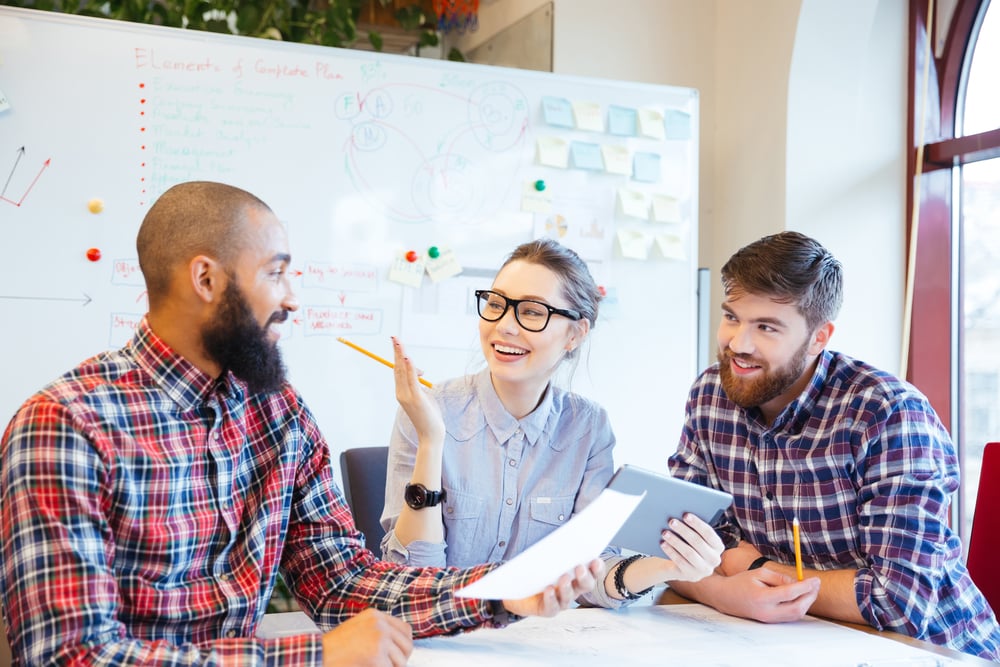 VoIP can manage much more than just voice, though. Users can also send and receive video, audio, text messages, and even files from one system to another. A text feature is a handy tool for businesses trying to communicate with their target audience. Users can transform any device into a business phone with VoIP. Business can be conducted professionally from just about anywhere in the world. Long are the days of being tied to a desk and desk phone if you don't want to be.
With many team members opting to work remotely (or at least a hybrid option), it is more important than ever to ensure that your team can communicate with each other as seamlessly as possible. To this end, VoIP is an incredibly useful tool because the only requirement is a stable internet connection to allow your entire team to communicate directly with each other. Below, we go over a few of how your team can improve communication with VoIP and how you can get the most out of your VoIP system within the workplace (or while working from home).
#1. Personalize Features to Enhance Communication in the Workplace
Every business needs to create and maintain a professional image and always have elite customer service and care standards. Having seamless communication and accessibility among your team can help with this. You can start by personalizing and controlling business interaction by choosing the best VoIP features to do so. When you get VoIP for your business from a cloud-based communications provider (like Simplicity), you can access all of the exciting and beneficial features they offer to help organize and streamline your company calls and inquiries. Below are a few that Simplicity offers:
Online Portal - Access your business phone, manage your greetings and calls, and make/receive calls through the browser-based portal (no software to download)
Interactive Voice Response (IVR) – Automated response assists and directs them to the correct department through a series of menus
Call Forwarding – Forward incoming calls to specific numbers or departments.

Call Recording

- Record incoming a for quality assurance, security, compliance, and training purposes
Call Tracking- Track incoming and outgoing calls with multiple virtual numbers.

Call Parking

- Anyone in the organization can answer a parked call by dialing the park extension number.
SMS to Email, Voicemail to Email – Receive texts and voicemail copies in your inbox
Text to Speech - Type out your name and greetings then select your preferred voice - no more need to record and re-record
#2. Encourage Collaboration Across Teams
With call transfer, a variety of extensions, and the ability to communicate with your team members from anywhere globally, VoIP makes it easier than ever to communicate with your colleagues and improve communication and collaboration. This can be especially beneficial with the workplace looking different (in person, remote, hybrid) for every organization. With high-quality audio and video communication, every team member can be in the know and up to date. Teams can work together on projects and documents from anywhere using video screen share and chat/SMS/MMS functionality..This improves productivity and efficiency while minimizing interruptions.
#3. Check-in Regularly with Your Team
While some meetings are dreadful, some are vital to communication and collaboration among teams or departments. Periodic meetings across teams can be incredibly productive, insightful, and helpful for all team members. It is crucial to maintain open communication and ensure that all team members are aware of and regularly using communication channels.
Team member surveys, informal social hours, and virtual chats are just a few other casual communication options or opportunities to connect with each other. Many business leaders have found it helpful to keep some communications informal, refer to the meetings as "chats" or "check-ins," and eliminate the pressure or negative connotations of the term "meeting." Some team members especially appreciate one-on-one sessions, while others prefer a small group to air any concerns and connect with their team members (even in a virtual or remote setting). As a leader, make sure to gauge your team's preferences, make changes when necessary, and create an open environment. Track what is working and what isn't, and make sure your entire team feels comfortable coming to you with any questions or concerns. This enhances communication in the workplace and creates a sense of community.
#4. Optimize the Onboarding Process
A common problem of ineffective communication is that new team members may be unaware of all the available options. For instance, say your company has hired a new customer support agent. The onboarding process shows them where they can find documentation and other knowledge, but not necessarily how to best communicate with their colleagues. So if a problem arises that they need help with, they may send out an email, unaware that your team has a group message or chat function available for quick FAQ and answers. The email may end up getting lost, never answered, in multiple inboxes, and your new team member may not receive the help they need in a timely manner.
Optimize the onboarding process so that every team member knows how to quickly get the help they need, where to locate the information they need, and how to get it. An excellent place to start is by building a FAQ section, giving access to training resources like videos or manuals, and providing helpful documentation upon hiring. Always make sure your team has access to these resources no matter how long they have been with the company too!
#5. Always Explain "Why"
If you don't understand why you are doing something, it can be challenging to offer the intended result; that applies to anyone. To fully communicate a task and achieve the desired result, it is crucial to explain the "why." Explain why you have assigned a specific task to a particular person, why you need help with that task, why it needs to be done (or done in a specific way), and why it is important to the overall success of the team workplace, organization, etc.
Communicating with your team member or colleague shows that you haven't just given them a mundane task or "busy work" but rather a purposeful task that will have an end result. Good communication can enhance a sense of motivation as you positively communicate, discuss the task at hand, and explain how working on and accomplishing this task will add to wider goals. Also, it is important to remind the assignee that you are available to answer any questions they may have and are there to help if needed. Make sure they are aware of all of the communication channels available to reach you.
With advancements in technology like VoIP, it is easier than ever to enhance communication within the workplace and make processes more efficient, effective, and productive. Still have questions? Connect with our Sales and Sales Engineering team and get answers about a VoIP system, request a quote for your business, or anything else we can help you with.