Video Conferencing: The New Sales Call
Video conferencing was one of the most underused tools for many businesses. However, since the beginning of the COVID-19 pandemic in March 2020, there has been a surge in the use of video conferencing. This is especially true for companies that previously relied on in-person sales, meetings, and conferences. Video conferencing has proven to be a highly successful, safer, cost-effective, and efficient alternative to traditional sales calls in this new world.
Forming and maintaining strong customer relationships is easier than ever with video conferencing. But to reap all the benefits of this technology, you must take the time to understand and make use of all of the features this modern tool offers. Just like with conventional sales calls, following a few best practices will make the calls as productive as possible. Below, we will take a deep dive into video conferencing, why it is important, and how it is helping businesses close even more sales!
What is Video Conferencing?
Video conferencing is an essential component of a remote business's sales process. Team members prefer to avoid in-person meetings and travel with an ever-growing remote workforce. Virtual meetings are a great alternative to this and are as easy and convenient as ever. Businesses can host meetings with team members, customers, and contractors. Many of these calls are in HD with modern technology, so it feels as though they are sitting across from you. Applications and software that enable video conferencing come with tools like screen sharing and remote desktop access to aid with the in-person feeling many are used to having.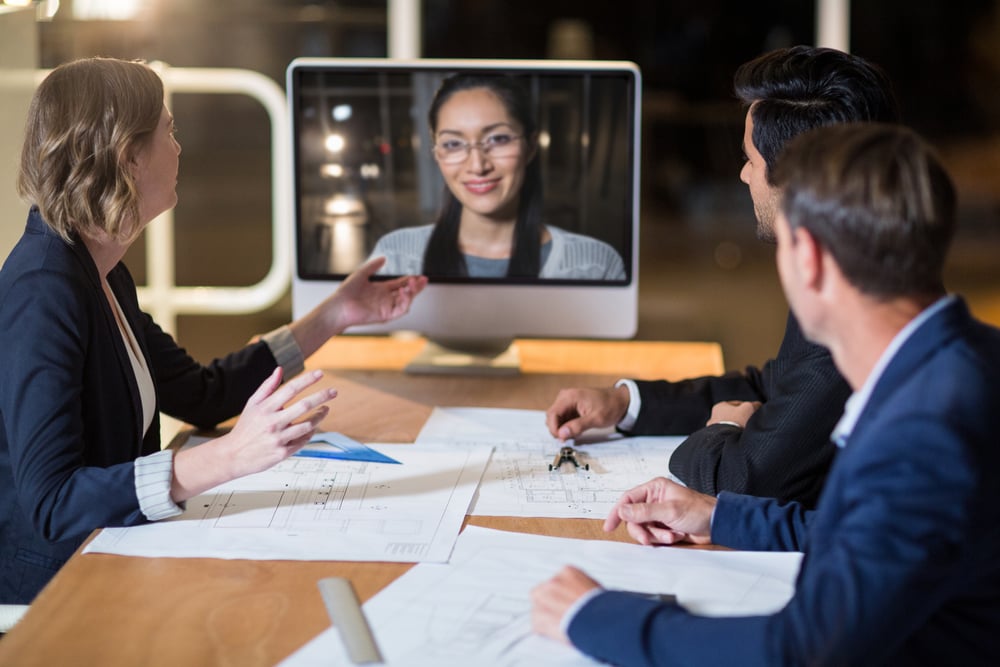 How Does It Work?
Video conferencing allows people from multiple locations to interact over both video and voice easily. Video information is shared via webcams, and audio is carried out through headsets, computer speakers, conference phones, or even mobile phones. With the click of one button, your video call is launched, and everyone can come together to communicate. With remote sales at an all-time high, video conferencing is such a great solution to conventional, in-person meetings (and much safer too).
Why Your Sales Team Should Be Using Video Conferencing
All sales managers (remote or not) want their team to be as efficient and productive as possible. With video conferencing tools, your sales team can reap all the benefits of working remotely without having to give up meaningful interactions with potential customers or leads.
As remote work continues to grow, sales teams worldwide are turning to video conferencing to see the benefits for themselves!
Face-to-Face Meetings
Many aspects of communication are conveyed through voice, body language, and facial expressions. Without video conferencing, you may miss out on these critical communication components. Video conferencing guarantees that the nuances of nonverbal communication are evident. You will easily respond to the nonverbal cues they are expressing and change the course of the sales call if needed. Try a different approach if they seem uninterested or ask for their input.
You will be able to see if the person on the other end of the call is attentive, so you can go ahead and continue with what you're saying instead of circling back and explaining points more clearly.
Frequent Contact With Clients
Effective sales calls depend on strengthening relationships with customers. Video conferencing allows for more frequent contact with clients without having to travel. Deepening relationships with clients (or even contractors) takes time, effort, and with video conferencing, you can maintain contact regularly.
Demo Your Products
Live demonstrations are often more effective than just words. Video conferencing makes it incredibly simple to show your product to customers in real-time. If demonstrations are not the easiest for your product, you can incorporate presentations, photos, product education, and videos during your video conference. This is an additional way to offer customers an opportunity to interact with your product and business.
Minimizing the length of your sales cycle can greatly increase your revenue, and video conferencing is a great way to keep sales cycles on track and increase the number of sales! You will be able to answer questions and find more opportunities for collaboration much easier than sending tons of emails.
Better Presentations
Presentation quality should not be impacted just because people are meeting remotely rather than in a boardroom. With screen sharing technology, you can emphasize the performance of specific tools and software live without a traditional PowerPoint presentation. Remote sales teams can even use video conferencing tools to screen share one application or tab at a time, helping to increase the quality and productiveness of the meeting overall.
E-Signatures
Electronic signature solutions also allow sales reps to send contracts and request signatures from clients, and get those returned faster than ever. There is no need for printing, mailing, scanning, or faxing documents ever again. Electronic signatures are gaining significant use and notoriety in the age of remote work as they are fast, simple, and just as legally binding as in-person signatures.
How To Close More Deals With Video Conferencing
Send Information Ahead of the Meeting
While some information can be shared during the meeting via screen sharing, it is good to share some information (like documents and videos) ahead of the sales meeting. Your prospective customer should have access to all the information they need to decide about the products or services you are offering. Also, giving your representatives access to information about your prospect can allow them to deliver a more personalized pitch.
Offer Modern Training for Team Members
It is vital to train new and existing employees in modern and emerging technologies. Employees who have long been in the business may have outdated techniques and gaps in skills that may result in loss of sales. On-demand training and resources and materials (like video tutorials) allow for customized learning for each team member.
Allow employees to go at their own pace. Training should assess technological comfort and ask your representatives where they need to improve. Be sure to include tips for building a rapport or active listening.
Your phone systems should be an excellent resource for training in real-time. Managers can coach representatives live with many features like call whisper, call monitoring, and call barge. Data is collected during each call to offer insights on individuals and differentiate one seller from another.
Double Check Connections
Having technology problems is frustrating for both buyer and seller.
Nearly every use has experienced technical problems including, poor video, video lag, or lack of response at one time or another.
As a seller, before introducing a new tool into your sales kit, make sure you are entirely comfortable with it. Even if you are 100% comfortable, having a backup option in place isn't a bad idea. Next, invest in an excellent headset with a microphone and good desk lighting. Below is a checklist you can use before beginning an important sales call:
Make sure your microphone, speakers, and camera are working
Reduce glare from lighting
Dress professionally
Close unnecessary applications and tabs
Disable notifications that may interrupt your call
Practice ahead of time with your demos, PowerPoints, or documents you will be sharing with a prospective client
Establish Goals at the Beginning of the Call
Finally, you can continue to set the call's tone by letting your customers know what to anticipate from the call at the beginning. Ensure you are as straightforward as possible during the call as well. Introduce everyone involved to limit questions during the presentation, then walk your customer through your sales pitch, stopping to answer questions whenever possible.
Video conferencing and remote selling are trendy and practical. They are often more productive and satisfied than those working in traditional office settings. As a bonus, they are much more affordable to manage as well. With the right tools and techniques in place, you can boost your sales and achieve your business goals in no time!
Additionally, managers should ensure that their team members have an agenda of what might be discussed during the call. Ensure that all staff is comfortable with the tools they will be using before ever sending them solo sales calls.
Video conferencing is an incredibly beneficial tool for businesses as we navigate a new, modern, and technologically advanced world. Customers and sales representatives alike can benefit from greater convenience, cost-effectiveness, simplicity, and safety (especially as the pandemic continues and in-person meetings are at a halt).