Am I Doing This Right? 5 Tips for Managing Metrics
The most successful businesses have a business plan and establish key performance indicators (KPIs) that measure performance against the company's goals. To make that happen, you need a solid strategy for collecting and managing data. Only then can you compare data against your goals and work on improving metrics, which leads to improved achievement.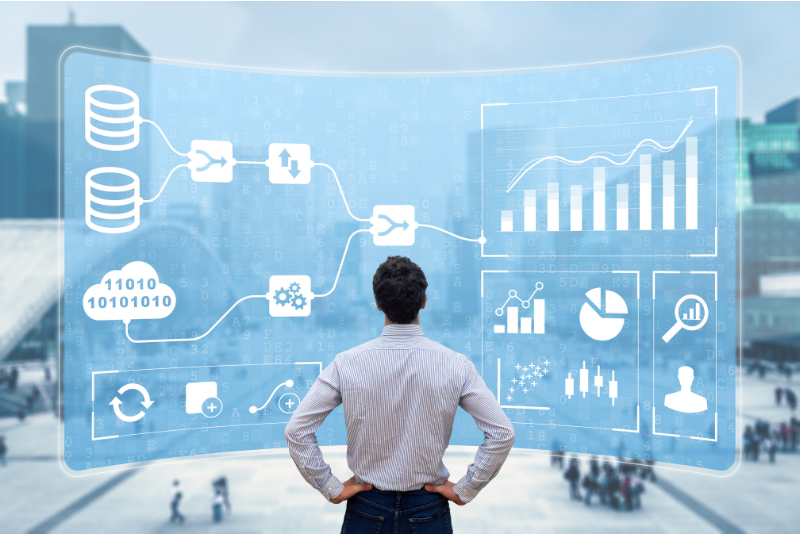 KPIs can help guide your company and ensure you stay on track, but establishing relevant KPIs and ensuring you are managing data properly is crucial. Metrics can help you improve outcomes in multiple ways, including:
Tracking performance for teams and team members

Promoting accountability

Meaningful goal setting

Tracking growth

Rewarding top performers

Uncovering areas that need improvement
Whether you're looking for small business solutions or at the enterprise level, here are five tips for managing metrics for better outcomes.
Develop your KPIs
KPIs should always flow from your business goals. The first step is making sure you know what those goals are and commit to quantifiable ways to track them.
So, start with strategy.
Step One: Strategy
Determine your goals for the next quarter or year and examine what it will take to get there.
Step Two: Define the Questions
Once you've sharpened your focus, you need to think about the questions you need answers to.
For example, you're experiencing lost, missed, abandoned, or slowly answered calls. These missed opportunities damage your reputation and lead to a poor customer experience. What is the cause of these issues? Is the problem with the call center? Are you having technology issues with your VoIP system? If you aren't focused on asking those questions and answering them definitively, you can lose clients. It's important to set a strategy and learn which questions to ask.
Step Three: Identify the Data
Once you know what questions you need to ask, you need to think about what you need to track and identify the underlying data that gets you the answers. Then, you will want to examine the current data you collect to find any gaps that need to be filled.
There's a good chance you have the mechanisms in place already to gather the data. If not, you need to do so!
Step Four: Manage Data and Assign Ownership
You need to develop a process for reporting metrics and KPIs and assign ownership. Someone has to be responsible for collecting and validating the data. Someone has to be responsible for making sure data is reported in a form that is understandable and relevant to stakeholders. Finally, someone has to be responsible for making data-driven decisions based on what the data shows.
Step Five: Take Action
Metrics are great, but if they sit on the shelf, they aren't going to do anyone any good. The most successful companies develop a framework for regularly reviewing data, making decisions, and acting on what they find.
Metrics provide a great way to track growth and determine the impact of your actions. For instance, if you are looking to do a better job of cost control, you might want to compare your actual expenses against your budget. When you see overages, this lets you probe deeper. Maybe your cloud computing costs are soaring or your phone bills seem excessively high. By tracking the metrics over time, you can uncover what causes these overages and take action. This may lead you to switch from traditional phone service to business VoIP to cut phone bills, provide better customer service, anytime-anywhere communications resources to management and sales, or tighten your data governance and cloud resource policies to eliminate unnecessary fees.
Measure What Matters
With the right tech stack, you can monitor and measure just about anything in your business. It can be tempting to do so, but it can also waste a lot of time. Measure what matters and invest your time in the key metrics and KPIs that help fulfill your strategic plan.
There isn't enough time in the day to focus on everything, so pay attention to the most important things.
Think about what you can measure from your call center. Net promoter score, call arrival rate, average time to abandon, and average handle time. You use these metrics to determine how well your call center is doing, then set goals for improvement. Metrics must be tied to broad business goals.
There's typically no shortage of things you can improve in your business, but there are always things that matter most. Start with the things that will have the biggest impact first.
Eliminate Data Silos
Despite best efforts, data often gets trapped in silos. It's no wonder, as the average large company is using more than 100 different apps to do business. It's easy for data to be contained in one cloud platform and unavailable to other apps or users.
This happens in small companies too. Perhaps you're using one system to process call center metrics and another for your phone system's customer relationship management (CRM). If the two systems aren't integrated, you may be losing valuable information about your online customers that should be captured in your CRM.
This also happens in companies as they add additional software or tools. Data often gets walled off in legacy systems without the ability to look at the big picture. Different departments might have access to data that might even tell a conflicting story.
When you can't see all of your data, it can limit your perspective and hurt your ability to make good decisions. In some cases, you might even make bad decisions based on data that doesn't tell the whole story.
When you're evaluating your data, make sure you understand where it's located and how it funnels into your metrics. Then, eliminate the data silos to have a more complete picture of your metrics.
Understand Different Metrics
While there are multiple layers of data and metrics, there are two distinct classes of data that businesses need to understand: lag measures and lead measures.
Lag measures will show you what you've done. For example, comparing actual sales revenue from last quarter against your budget will determine whether you met your sales goals. This is important to track over time to see trends developing.
However, paying attention to leading measures can help predict future performance and find places where you can impact what happens next. For example, by knowing how many leads you currently have in the sales pipeline and your average conversion rates, you can estimate future sales activity.
When you see the number of qualified leads in your pipeline dip, you can double down on efforts to prospect leads. If you have plenty of qualified leads but aren't closing as many as you should, you can investigate what's stopping deals from converting and what measures you can take to resolve the problem.
Refresh Metrics Regularly
Every business and market is different, but by taking the time to establish your goals and strategy, develop your KPIs, measure the right things, and update your plans regularly, you can make sure you're measuring the things that will drive success.
Simplicity VoIP provides VoIP, hosted PBX, business telephone solutions, and unified communications to help your business grow and prosper. With affordable solutions and data-rich reporting that save you time and money, Simplicity VoIP can help you meet your KPIs.
Contact Simplicity VoIP today and let us show you how we can help.