Eight Signs It's Time to Upgrade Your Business Phone System
The internet has completely changed the way we do business. Now more than ever, we can work from anywhere, anytime. And we now have access to seemingly limitless tools to support productivity. Customers have come to expect excellent service, which starts with flawless communication. That's why businesses stand to gain serious advantages simply by upgrading their phone systems.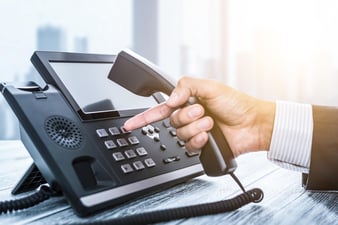 Below are eight signs that it's time to upgrade your business phone system to stay competitive in the market.
#1. Your Phone System is Becoming Obsolete
When was the last time you replaced your telephone system? For many businesses, this hardware is often overlooked--it's common for businesses to use phone systems that are no longer manufactured or supported. This creates a risk because older systems are more likely to fail, and outages themselves can be costly. Additionally, it can be difficult and costly to replace individual phones or other hardware.
It can be much more cost-effective to proactively upgrade your phone system for a VoIP-based system that doesn't require as much hardware as an analog system. Along with reducing the risk of equipment failure, a VoIP system offers convenient features like softphone and mobile applications.
#2. Your Phone System Lacks Features and Functionality
Let's face it: we expect much more from our telephones than we did twenty years ago. Think about cellular phones; once, these devices were clunky and unreliable. Today, they are equipped with microprocessors, and they double as cameras, video gaming systems, and much more.
That same multifunctionality has also come to business phone systems. Upgrading to a cloud-based system can dramatically impact the way you do business. These systems provide a wide range of tools and add-on features. And they are usually less expensive than buying multiple layers of hardware and software for different functions.
#3. Your Phone System is Susceptible to Data and Security Breaches
The last worry a customer wants is privacy concerns or the lack of protection for their sensitive data. If your company cannot make these promises to customers, it's time to reevaluate your business model. Whether you are a small business or a large enterprise, it is vital that your phone system can offer high-quality security, reliability, and privacy to customers. If you currently use a traditional phone system, every call is transmitted using audio signals. Audio signals can be easily intercepted, putting your customers' information at risk of being stolen.
High-quality VoIP providers utilize voice encryption. Encryption makes VoIP secure and protects the voice and data networks so that the company's security is never at risk for major disruptions. Regardless of your industry, a good VoIP provider should be able to comply with all industry standards. For example, if you are a healthcare service provider, your VoIP system should be HIPAA compliant. Or, if your business accepts credit card payments, the system should be PCI compliant.
#4. Your Business Needs Unified Communications
Traditional legacy phone systems typically do not support anything other than phone calls and voicemails. This means email, chat, text messaging, web, audio, and video conference calls cannot be integrated into your traditional legacy phone system. This presents a real challenge for the 21st-century business.
Unified Communications as a Service (UCaaS) grants the ability to run all systems and tools from the same software. Moving to a UCaaS phone system is a great way to control costs. You only pay for the licenses you need, reducing your overall costs of ownership and maintenance. You can also add additional services like MMS and SMS messaging as you need them. UCaaS makes it possible to serve customers from one unified platform, using their preferred means of communication.
#5. Your Phone System Is Too Costly
Traditional on-premises phone systems represent a considerable expense. They can also represent a variable cost, as there are often steep fees for international calls and other key features. Furthermore, on-premises phone systems come with equipment and maintenance costs.
Upgrading to a VoIP system is an easy, cost-effective solution. VoIP enables you to use your existing internet connection instead of dealing with costly hardware and wiring. You can save even more because of free unlimited local calling and low-cost international calling rates. The "as a service" model makes it easy to pay only for what you use every month, as well as shift costs to operating expenses (OPEX).
#6. You're Changing Locations or Adding More Locations
Maybe your company is growing, and you'll need more space. Or perhaps you're adding entirely new locations. This kind of growth can be difficult to support with a legacy phone system. It's common to pay hefty fees for the installation of additional phone lines, along with increased monthly costs.
A VoIP system delivers far superior scalability and flexibility. Adding more phone lines or users can be done with a few simple clicks, and it's usually less expensive to pay for a single VoIP installation across multiple locations than it is to pay for a traditional phone system.
#7. Your Phone System Doesn't Support Work from Home (WFH)
In the past year, companies of all sizes made a rapid shift from in-office to at-home work. And many will continue to encourage their employees to work from home (WFH). This arrangement can be difficult with a traditional phone system; employees may not have the necessary hardware and software in their home offices, and moving to a "multi-location" model can lead to extra costs. Meanwhile, traditional phone systems don't easily support critical WFH functionality, such as video conferencing or collaboration with a large number of participants.
In contrast, a cloud-based VoIP system can go wherever your employees go. They no longer need physical phone lines. They can access their work numbers anywhere using a softphone or a VoIP desk phone. The entire team can easily stay connected to each other--and to customers--improving organization and productivity.
#8. You Notice Dropped Calls or Poor Call Quality
You are on a call with a very important client when suddenly your call drops, or it gets too fuzzy to hear. If this has happened to you, then it's time to consider upgrading your business phone system. After all, dropped calls and poor call quality can both impact your bottom line.
The best VoIP systems prevent these issues through HD voice. Operated via a cloud phone system, HD Voice requires only internet connectivity and either an IP desk phone or a mobile phone app.