Simplicity Celebrates 10 Year Milestone Anniversary
Over the last decade, Simplicity VoIP has evolved in ways we never thought possible. Our team and company as a whole have strengthened, grown, and together we have established a cutting-edge platform and exemplary customer support model, ensuring the highest level of client experience in the industry.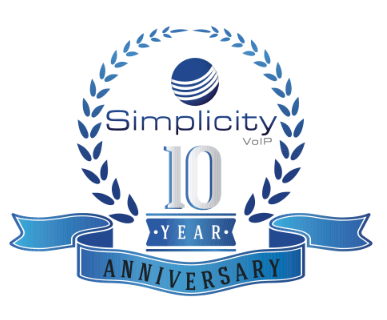 Before Simplicity VoIP, there was Comtel Communications and Simplicity VoIP's parent company. Comtel's team supported partners and sold VoIP to end-user clients.
However, through the sales and implementation process, Simplicity founder and CEO Ben Humphreys noticed there was a gap in service delivery that did not align with our current high-touch, full-service commitment to partners and clients. Thus, Simplicity VoIP was founded to address that need.
Simplicity differentiates from other VoIP providers because we live and operate by the motto "Customer Experience Matters," offering customized design, pricing, and scalability approaches with onsite delivery and service.
Our US-based client services team answers the phone promptly (no long auto attendant prompts to work through or 45-minute hold times) and offers real-time resolution to Tier 1 and Tier 2 issues filing a ticket post-call. We do not bill until the service is successfully installed, and we use NetSapiens technology across three data centers located in Michigan, Nevada, and Texas. We offer a range of expertise in various industries, including financial, healthcare, legal, multi-location, retail, and more!
When asked what he was most proud of regarding the last decade of Simplicity VoIP, Ben Humphreys had this to say:
"When I think about Simplicity's tenth anniversary, I think about the reason we got into the business. We believed we could support the customer in a better way than our larger competitors. As we pass the 10-year mark, I am incredibly proud of the level of service and customization we can offer our customers! We listen and tailor solutions to their needs and deliver!"
Since our founding in 2012, Simplicity has grown exponentially. To further our specialism in UCaaS and CCaaS, Simplicity's parent company Comtel Communications was sold to Telarus in 2021, and Simplicity was added to the Telarus portfolio; we have celebrated our team and partners along the way. Simplicity appreciates and values our team members and the relationships we have built and are continuing to establish.
Success can be seen in our numbers. We have a highly dedicated and valued team, expanding business ventures, and state-of-the-art technology. Simplicity is incredibly grateful for our employees, partners, and of course, our clients.
Stay tuned for more celebrations and updates as we celebrate this significant milestone for our company!