Technology Trends to Watch in 2021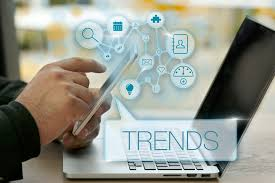 Due to the coronavirus pandemic, numerous companies have had to adjust their business models. At Simplicity VoIP, we are noting some of the predicted technological trends of 2021, many of which relate to changes the pandemic has caused.
Remote Work
The pandemic proved to the general public and to many companies that technology is vital to a smooth-running operation. The work-from-home model became a necessity in 2020, and with many companies finding ways to make this trend very efficient, remote working will continue to grow even after the pandemic ends.
Cloud Storage
Along with the increase in work-from-home models, we expect to see a continued increase in investments in digital models that allow work to occur virtually. The use of data storage in the cloud rather than in hard drives or other physical premises will remain and gain more popularity, and people will invest in these cloud data storage companies as well.
Virtual Travel Replacement
The idea of a consistent business travel schedule in a company seems to be going away. With the availability of conference video calling, even after travel restrictions are lifted Simplicity VoIP predicts that travel will not go back to the regularity that it was pre-pandemic. This will further influence the increased use of technology in the business world.
"As-a-Service" Model
Unified Communications in 2021 will further be shaped by the growth of the "as-a-service" model. Due to new versions of software causing previous models to be obsolete, there has been increased frustration when organizations analyse their technology spend. Consequently, technology companies have begun to provide subscribers with "as-a-service" sales models. These types of packages allow the software to be installed as soon as updates are released, rather than waiting until the old software is unable to be used anymore. With this in mind, we expect the demand for traditional sales models to decrease.
E-Commerce
Lastly, we predict that the dramatic surge in e-commerce will continue to rise exponentially. The mere convenience of this service is enough to sustain its growth, through the pandemic and after . For technology companies, the rise in business-to-business ecommerce will lead to increased market presence for businesses that operate by selling directly to customers.
These predictions have one overarching idea: technology is king. The pandemic forced companies to be creative, which led them down a path of increased technology use. We at Simplicity VoIP are excited to see what the future holds with continued innovation in response to this increased demand.