Today's businesses generally utilize one of two technologies for their phone systems: traditional landlines or Voice over IP (VoIP). On average 700,000 customers choose to leave their landlines behind every month. Therefore, it is no surprise that businesses are also considering their options.
Traditional landline phone services, also known as public switched telephone networks (PSTNs), are analog systems that run through local or regional telephone company's conventional copper wiring. With traditional services, you can choose between individual phone lines or an in-house private branch exchange (PBX) system. On-site PBX hardware allows for the creation of multiple phone extensions and the enablement of system features, such as call transferring and extension directories.
Alternatively, VoIP technology utilizes an internet connection to transmit voice as data. If you've used Skype to make a phone call, then you have experienced VoIP technology in action. With VoIP systems, the option exists to buy equipment outright and have your IT team self-host and manage the service, or you can opt to rent equipment from your service provider and have them host the PBX in the cloud.
For a quick comparison between traditional and VoIP services, reference the chart below: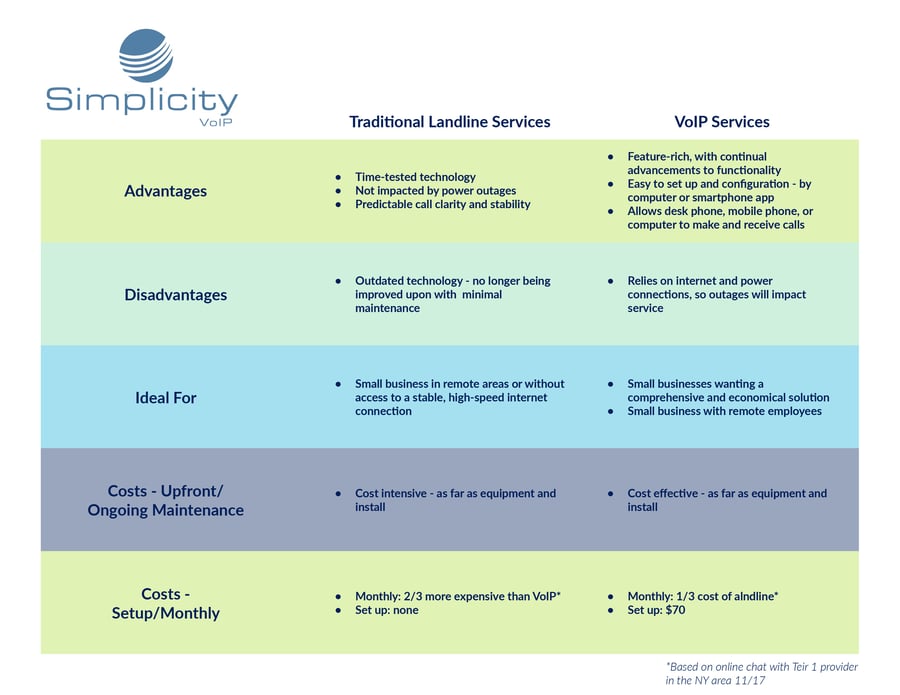 VoIP technology is here and becoming a popularly adopted option for numerous reasons including the following benefits:
Mobility – your mobile phone can become your anywhere-anytime office phone
Portability – use your computer or mobile device as your personal extension
Flexibility – manage your phone system from your computer or cell phone. You can even set up your settings to accommodate remote office hours.
Accessibility – VoIP features are more accommodating that ever including such benefits as voicemail conversion to text and email
Integrations – the current technology allows for CRM and other third-party integrations.
To review your options and if your landline technology is passé, consult with an expert to see how your business can tap into the benefits of VoIP. An agnostic technology agent or consultant can ask the right questions to determine what you need and how VoIP fits into what you're trying to accomplish. In addition to assisting you with procurement, they can also handle ongoing care. If you would like to learn more about VoIP, contact us and a representative will be in touch.
About Simplicity
Simplicity VoIP, based in Richmond, VA, provides hosted PBX, VoIP and business telephone solutions nationally to small, medium, and enterprise-level businesses for a comprehensive unified communications experience. Two distinct Class 5 geo-redundant VoIP platforms are offered in addition to fax-to-email, phones and equipment, and managed services. Named as Richmond's 11th fastest growing company by Richmond BizSense, Simplicity VoIP's key to success is its on-site service, installation and training supported 24/7/365 by a world-class client services team.