7 Benefits Of VoIP Solutions Your Boss Wants to Know
Phone technology is an integral part of any business. Whether you're making sales calls, fielding customer inquiries, or negotiating with suppliers, you need a reliable phone connection. Unfortunately, cell phone plans and landlines get expensive fast, especially when you try to scale them.
The good news? There is something called the internet, facilitating seamless and affordable global connectivity for text, audio, and video.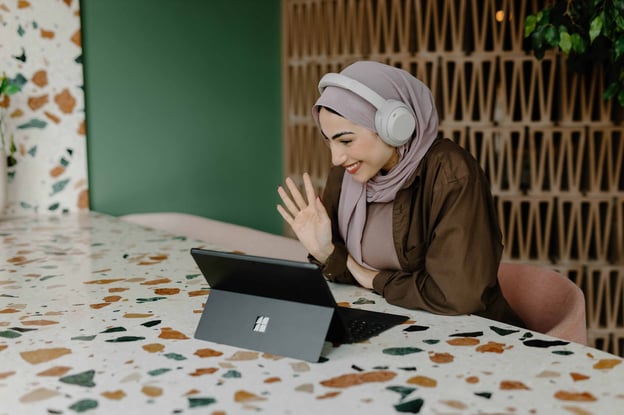 VoIP is a common solution to expensive or geographically limited phone plans, making virtual multimedia or phone sessions affordable, accessible, and easy. If you are wondering how VoIP can help your small business, we will cover the benefits of simple, all-in-one, and secure, cloud-based communications.
However, it's one thing to understand the technology and its uses. It's a completely different thing to sell it to your boss. No matter how low the cost and how multi-functional your communication solutions are, upper management might still be hesitant to authorize the change.
While VoIP might be the answer for your business, let's review the core benefits of VoIP solutions and help establish a convincing case for change!
What is VoIP?
VoIP – voice over internet protocol – is the technology that allows you to have phone conversations using internet data with the IP network turning audio into a data signal to be sent. All that's truly needed is an internet connection and a SIP-capable device (desk phone, computer/laptop, tablet or mobile phone).
While there are numerous VoIP benefits, here are the top seven:


1. Say goodbye to phone lines and desk phones.
One of the best things about VoIP is that you don't need any telephone lines.
The "plain old telephone service" (also known as POTS) will become history with VoIP eliminating the need for an entire, outdated infrastructure of copper cables and old-fashioned desk phones.
With VoIP, your phone applications are cloud-based and can be accessed on client devices like mobile phones or tablets, laptops or desktops or VoIP phones, connecting to your WiFi, mobile data network or wired internet. Anytime-anywhere usage is possible with the mobile VoIP app, masking personal mobile numbers and showing the business number of the VoIP application.
Make an outbound call from your laptop, and receive the return call on your VoIP soft phone or mobile app with the same VoIP technology and phone number.
Implementation is easy because.....
2. You already have most of the necessary tools.
The main reason VoIP is so affordable is that most companies already have high-speed internet access, and 5G mobile devices become more common.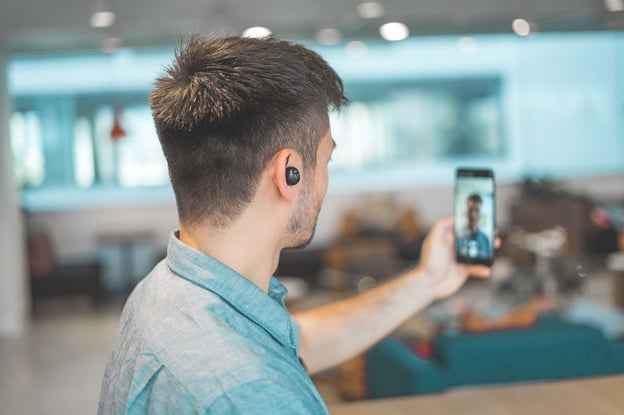 VoIP systems do not require any physical wiring beyond ethernet cables if so desired; WiFi-compatible devices require no cabling at all.


3. Goodbye, expensive international calls
The traditional phone infrastructure has a major drawback for international travelers calling back into North America: it can become very expensive to call, and roaming charges and per-minute fees can add up quickly.
Calling back home from your VoIP app involves no cost other than reaching a data access point at your travel destination. The team from the home office can call you at your VoIP number without incurring additional costs. Most outbound calls to international destinations, even non-VoIP recipients, are at a fraction of the cost of the traditional phone provider.


4. VoIP is easier to scale.
The internet is flexible, growing, and becoming more robust. With phone system outages still happening, true internet failures are becoming a scarcity; there is (almost) always an internet connection nearby through a variety of Internet Service Providers (ISPs) or the data networks of phone service providers.
Because VoIP is cloud-based and uses rapidly deployable software, new users, changes to organizations, teams, and management structures become a breeze to implement in the supporting VoIP phone infrastructure, features such as call recording, round-robin team calls, after-hour voice attendants or voicemail can be easily added, removed or configured to meet the ever-changing needs.


5. It's an all-in-one solution.
Gone will be the days of picking, choosing, and configuring services from countless different providers. With your devices, an internet connection, and easy-to-use VoIP platform, you're good to go. You can choose products such as:
SimplicityWeb, a softphone or browser-based phone application that enables VoIP through your computer
SimplicityGO, the mobile app that allows you to VoIP from your mobile device or tablet
Wireless Backup, a seamless internet failover solution for phone system service
Together, these will not only give you the best features of the traditional phone but allow you to extend them substantially. You access those features in more places around the globe, but you can also seamlessly integrate them with your other web-based activities, CRM systems and more.


6. Use VoIP for effective team collaboration.
Say goodbye to the days when you had to bring everyone into one room to make a conference call. Now, you add participants to the call easily, without costly systems or the annoyance of merging calls.
It's super-easy to get everyone in the same place with VoIP technology, VoIP enables meetings between far-flung offices and employees – no blood, sweat, or tears needed.


7. It easily integrates with existing technologies.
Do you already (or still) rely on technologies to be integrated with your communications infrastructure? VoIP can help you there too.
Do you still have some cases that require you to receive Fax? Use VFax as an internet-based fax system integrated into our portal, easily utilized via email or the portal with no special equipment necessary.
Do you need to contact individuals in your CRM system with a few clicks per SMS or MMS, integrate with Teams or other Audio conference solutions? Contact us and make use of a leading-edge VoIP offering.
Our goal at Simplicity VoIP is to make your communications as straightforward as possible and limit the use of additional tools, equipment and portals. If and where needed, they should integrate seamlessly for less clutter, greater ease of use and overall less time spent with technology.
Equipped with the above portfolio of benefits, you can now bring that suggestion to your boss and make the best use of your remaining budget. They'll be sure to thank you later!
Would you like to learn more about our all-in-one solutions? We invite you to get in touch with a member of our team and ask your questions today.