Simplicity's New Site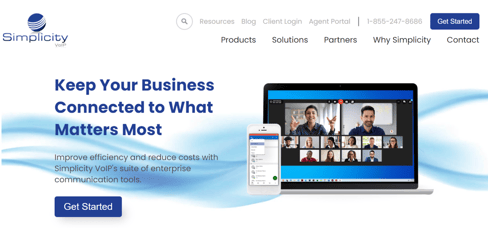 Chances are if you are reading this right now, you've noticed that Simplicity VoIP has a brand new look! Over the past several weeks, Simplicity has been redesigning its website to make its user interface easier to navigate for users like you. With tabs like Products, Solutions, Partners, Why Simplicity, and Contact, Simplicity's website now allows clients to discover more about Simplicity and what we have to offer.
If you are curious about what kind of products Simplicity offers, look no further! The new "Products" page allows you to discover the right phone system for your business. Whether your business is looking to grow, or already includes multiple sites across the nation, Simplicity VoIP offers scalable, affordable phone systems. From phones & equipment, webphone & mobile app, online portal & messaging, video conferencing, and more, all you need to know about Simplicity's products are on this page. You can check out more of our product features here!
Need a question answered as soon as possible? Our updated Knowledge Base can provide you with everything you need! From instructional videos, user guides, troubleshooting, and more, all your questions can be answered on a dime. Simply click the category your question pertains to, and our new website can direct you to your answer. This page also allows the user to search their questions if they are unsure which category it applies to.
The new "Solutions" page will offer an organized way to search for solutions based on audience, need, or industry if clients don't know where to start. This page will offer more information for the right communication tools to do so much more than keep you connected—they help increase productivity, improve customer satisfaction, and reduce costs.
At Simplicity VoIP, we believe that we grow better, together. The new "Partners" tab breaks down Simplicity's partnership program from a referral partner, premier partner, and super seller. With more information specially tailored for our partners, they can receive a suite of sales and marketing tools and ongoing support from our world-class customer service team on this page. If you are interested in becoming a partner, this page features a submission form to get started today!
The "Why Simplicity" page offers information regarding the Simplicity process as well as more background information on what and who Simplicity truly is. On this page, you can learn more about Simplicity's installation process, how to get started on transitioning to Simplicity, and meet Simplicity's leadership team.
Simplicity is here for whatever you need. Simplicity's "Contact" page allows customers to easily access our customer services, sales, and business office contact information as well as offers our Richmond and Virginia Beach headquarters information.
In addition to these tabs, the new website redesign allows clients to easily access the Client Portal Link, submit a support ticket to our ​​Client Services team, and review our latest blog posts!
Simplicity is ecstatic to have the website redesign launched and looks forward to connecting more with clients through an easy-to-navigate website interface. If you have immediate questions about the new website and its features, Contact Simplicity today.