Considering VoIP for Your Small Business? Read 15 Surprising Statistics
Voice over Internet Protocol (VoIP) has been changing the way businesses handle their telecommunications. Instead of using POTS lines and expensive, bulky hardware with maintenance fees, VoIP uses your internet connection to convert your voice to a digital signal and send it to the person you're calling. For users, the voice quality of VoIP calls is virtually identical to what you've come to expect from traditional business landlines.
A good VoIP system integrates your mobile and office devices to create a seamless network that makes sure your customers can reach you no matter where you are. However, there's a lot to learn about the features and popularity of VoIP telecommunications services. Were you aware of these 15 statistics about VoIP?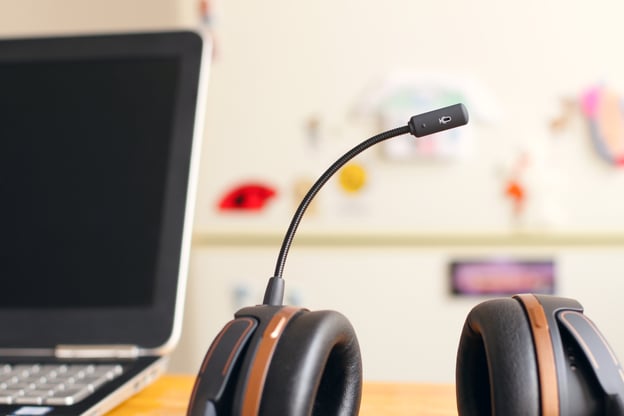 Surprising Stats About VoIP
We've put together a set of 15 statistics about VoIP communications services. Some – or most of these – may surprise you.
The most popular VoIP feature for businesses is the "find me/follow me" feature. A full 77% of businesses use this VoIP feature. The find me/follow me feature routes your calls to whatever device you decide based on where you will be, whether that's your laptop, your cell phone, or your office phone or your home landline phone. That means better customer service for your clients.
According to smallbusiness.com, companies can save up to 90% on the cost of international calls by using VoIP instead of traditional phone service. In addition, the average company saves 40% on local calls and 75% on operational costs by making the switch to VoIP.
If you are considering switching to VoIP for your business calling, you're not alone. According to a 2021 report by Research and Markets, the global market for VoIP services is currently more than $85 billion and is expected to grow to $102.5 billion by 2026.
The average business realizes savings of between 50 and 75 percent on their telecommunications costs after switching to VoIP. (Multicominc, 2021)
VoIP doesn't just save money; it's easier for employees to use. A study by one VoIP provider found that 67 percent of employees found it easier to handle calls using VoIP than by using their previous, traditional communications system.
VoIP is much less expensive to implement. Startup businesses save an average of 90 percent in implementation costs when opting for VoIP phone service over traditional options. (Startupanz, 2021)
VoIP also helps your employees be more productive. According to a 2021 study by CISCO Systems, small businesses experience 77 percent improved productivity when using VoIP features.
VoIP is an all-in-one solution. Using VoIP, your business doesn't have to contract for separate landlines and mobile phones. Using a VoIP provider's mobile app is extremely popular for business. In 2021, nearly three billion people were using VoIP mobile applications.
The COVID-19 pandemic had a major impact on how businesses use their communications systems. Wireless voice minutes increased by 25 percent during the pandemic months of 2020.
In addition, the use of meeting apps and social media platforms for business increased by 35% during the COVID-19 pandemic.
As workers stayed away from the office during the pandemic period, voice and video calls more than tripled in 2020. (Parks Associates, 2020)
Today, 31 percent of businesses utilize a VoIP solution in their organization. (Multicominc, 2021)
The web conferencing and integrated voice features in a VoIP app can help businesses save up to 30 percent on their conferencing expenses. (Multicominc, 2021)
AI-enabled VoIP systems are becoming increasingly popular. According to one survey, 95 percent of all customer interactions will be powered by AI by 2025. (SG Analytics, 2021)
In 2020, 8 out of 10 businesses have already adopted AI in their customer service solution. (Oracle, 2020) That should be no surprise. Forty percent of adults use an AI-enabled tool, such as Siri and Alexa, at least once a day. (Techjury, 2021)
VoIP Solutions with Simplicity
Simplicity offers a variety of VoIP services for small businesses that allow you to tap into the many advantages illustrated by the statistics above. Our solutions include...
SimplicityWeb – SimplicityWeb is our browser-based softphone solution. It's a great answer for small businesses that don't have a lot to spend on communications equipment.
SimplicityGO – SimplicityGo is our free mobile app that's easy to download and provides a high degree of security and all of the features you've come to expect from your communications provider.
Wireless Backup – Simplicity offers seamless failover to a 4G LTE Verizon solution, so your customers can continue to reach you even if your internet service is interrupted.
VFax – Many small businesses, such as those dealing with medical products and services and legal matters, still use faxes as a part of their daily routine. VFax is our online faxing solution. It's integrated into our portal and is easily utilized via email or portal without any special equipment.
About Simplicity VoIP
Based in Richmond, VA, Simplicity VoIP offers customized communications solutions for businesses of all sizes, using VoIP technology. We work with you from the planning stage to installation and follow-up and take the time to get to know your current communications needs and your plans for the future. Only after we've gotten to know you and your business do we suggest a customized solution for your business. We don't want to be simply your VoIP vendor. We want to be your communication solutions partner, both now and as your business grows.
To learn more about how Simplicity VoIP's all-in-one solutions can help your small business save money and be more efficient, contact us today. We've been helping companies like yours get the most from their communications budget for more than a decade.