CRM Software Integrations and your Cloud-Based Phone System
Today, nearly all modern businesses leverage the many capabilities of cloud-based phone systems. However, integration capabilities are necessary to reap all these systems can offer. With the ability to integrate your phone system with other software, companies can vastly improve their communication processes.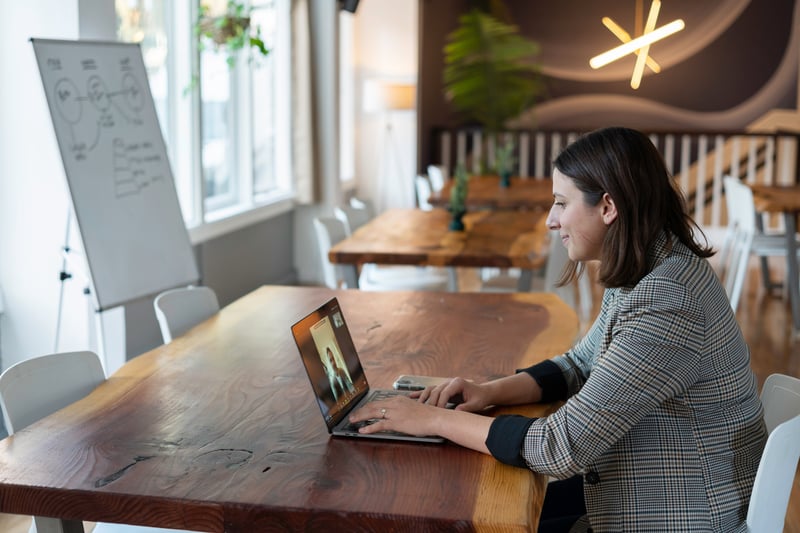 Cloud-based phone systems have revolutionized communication and collaboration for businesses of all sizes. They provide an affordable, scalable, and flexible solution that enables teams to work seamlessly across locations and devices. In addition, they come with a wide range of features and functionalities that can enhance productivity, customer service, and overall business performance.
However, as businesses grow and diversify, their communication needs become more complex and varied. To maximize the benefits of cloud-based phone systems, businesses must integrate them with their other software applications.
Data Integration Services
Data integration services enable businesses to combine data from multiple sources into a unified view. This is particularly useful for companies that use specific software applications and platforms to manage their operations, enabling them to access and analyze all their data in one place.
When integrating cloud-based phone systems with other software applications, developers are critical in ensuring a seamless and efficient process. They perform various services, such as merging data from various applications into a unified view, consolidating business processes, and creating Database Management Systems (DBMS) to ensure data integrity during the transfer process. This helps businesses access accurate and reliable data across all their applications and platforms, enabling them to make informed decisions and optimize their operations.
What is VoIP CRM Integration?
VoIP CRM integration is critical for companies that rely on customer phone interactions or telesales. CRM software is essential for accessing and recording every detail of customer interactions, and without it, businesses risk losing valuable information and opportunities.
By integrating information between the phone system and CRM software, staff can streamline workflow and save time. Instead of manually pulling up and entering call and customer details into the CRM after each call, the integration automatically accesses, records, and saves this information. This enables staff to focus on providing quality customer service and making sales without the added burden of administrative tasks.
VoIP CRM Integration is a valuable tool for businesses wanting to optimize their operations and provide exceptional customer experiences. By automatically integrating data between their phone system and CRM software, companies can ensure that every interaction with a customer is recorded and easily accessible. As such, they can make more informed decisions and improve their processes over time.
How Does CRM Integration Benefit Businesses?
VoIP and CRM integration is a powerful tool streamlining the entire sales and customer service process. With customer data at their fingertips, agents can easily handle queries and build customized workflows that cater to their needs.
There are several benefits of VoP/CRM integration, including:
Effective Data Collection: Recording data in an organized manner is crucial for sales reps and support reps. With detailed information about prospects, sales reps can tailor their pitch accordingly. Similarly, support reps must know every customer's case history to provide efficient service.
The integration automatically syncs all the vital information between your phone system and CRM software, making it easier for agents to operate. During calls, they can use the customer's name, feed the call data into the CRM, map the customer's requests and complaints, and follow up on the call without consulting a separate directory. Since the information automatically gets recorded in the CRM software, reps' jobs become more convenient.
Make Calls from Your CRM: One of the critical advantages of VoIP and CRM integration is the ability to make calls directly from the CRM system. This eliminates unnecessary manual steps and saves reps time, allowing them to make more calls and improve productivity.
Before integration, reps often had to search for contact details in the CRM and then switch to a separate phone system to make the call. With integration, representatives can simply click on a contact's phone number in the CRM, and the VoIP phone system will automatically initiate the call. This feature not only saves time but also helps to create a more systematic framework for rep workflows.
Learn More About Streamlined Features, such as Teams Integration, Below!
Streamline Post-Call Actions: VoIP CRM integration simplifies post-call actions and formalities for reps. With this integration, representatives no longer need to record information about each call once the call is concluded. Instead, the CRM automatically syncs the data from the phone system along with notes and activities taken by the rep during the call into the CRM.
Additional VoIP phone functionalities such as call recording, transcription, and dispositions are handy. During calls, agents can take notes and record conversations. The integration automatically saves these details in the CRM, providing a systematic framework for agents to follow.
Leverage SMS and Automation: Besides streamlining the sales process and post-call actions, integrating your VoIP phone system with your CRM offers several other valuable features, including SMS capabilities. With an impressive open rate of over 85%, SMS can significantly increase conversion rates. But syncing your VoIP phone system with your CRM offers even more benefits beyond basic SMS functionality.
With click-to-text icons next to every contact, busy agents can save time and streamline their workflow. These buttons act as helpful shortcuts on a busy working day. You can also set up SMS automation to send SMS to your contacts whenever a particular condition is met. This allows you to send automated text messages for follow-up and drip campaigns.
VoIP integration with CRM also offers the ability to send bulk SMS messages, which can be incredibly useful for SMS marketing campaigns. You can send promotional and marketing messages to many contacts from your CRM.
Improve Customer Service. Customer engagement plays a crucial role in shaping a business's success. By providing a smooth customer experience, companies can create better and more lasting customer relationships. This, in turn, helps to retain loyal customers, increase customer lifetime value, and even turn customers into brand advocates.
Consistent and personalized interactions tailored to your customer's needs, preferences, and expectations are essential to achieving this level of customer engagement. By leveraging the functionalities provided by VoIP and CRM integration, businesses can enhance customer relationships and build a loyal customer base.
Collect Vital Call Analytics: With a CRM VoIP integration, you can easily view metrics and KPIs related to incoming and outgoing calls. This includes data such as the number of calls delivered and received and the duration of each call.
Improve Productivity: With VoIP CRM integrations, customer support teams no longer have to toggle between multiple programs and devices. Instead, they have immediate access to all the essential details from when they pick up a customer call – all in one place. Hence, the customer need not wait much to catch up.
Telephony integration with CRM automatically logs all voice calls – inbound or outbound – irrespective of your device. You can then fetch the entire call transcript, notes, and voicemails. You no longer need to waste time on data entry during or after the customer call. Instead, your sales reps can spend those valuable hours interacting with customers without interruption.
By analyzing this data, you can identify areas for improvement in your call-handling processes, optimize your team's performance, and ultimately drive better business outcomes.
Integrating cloud-based phone systems with other software applications is essential for businesses looking to optimize their operations and enhance productivity. Data integration services, enterprise application integrations, API integration services, and service-oriented architecture are all effective ways to achieve this. By selecting the right integration services and designing a well-integrated system, businesses can achieve seamless communication, collaboration, and performance across their entire organization.
Want to learn more about how Simplicity can help you improve your customer interactions?