Future of E911: 5 IT Areas to Consider
RAY BAUM's Act officially went into effect on January 6, 2022. This act mandated businesses' compliance to provide live, accurate 911 location and call routing management. Non-fixed endpoints that can falsify a sense of security and provide inaccurate information about an individual's location can be detrimental to your team and your company. An organization is subject to regulatory responsibility, legal risk, and, more significantly, team member health and safety issues due to improper location management and call routing.
Tracking phone locations and 911 call routing are essential responsibilities for individuals who manage phone networks (like your IT department). The ongoing emergence and use of softphones, embedded dialers, and the transition to cloud-based communications have made that work more challenging. It's no longer sufficient just to manage desktop phones at fixed locations. That is why it is even more important to proactively address these areas, keep your team members safe, and ensure they can be located should an emergency occur.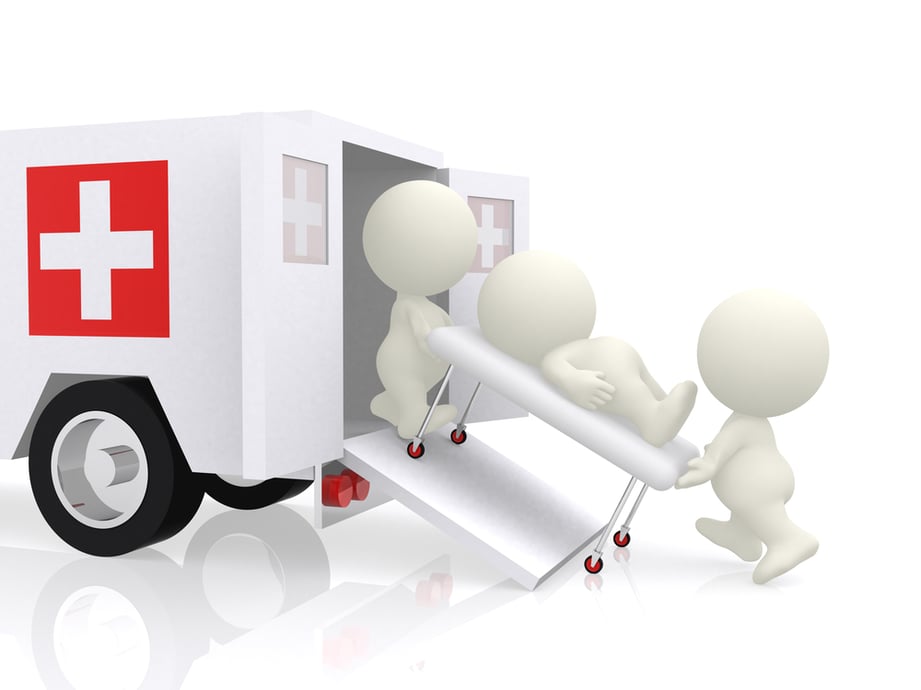 Below are five areas that IT leaders should be considerate of for 2022 and beyond:
#1. Determine Your Company's Compliance
The RAY BAUM Act mandates that callers contacting 911 operators must include a "dispatchable location." The FCC defines a dispatchable location as "a location delivered to the Emergency Communications Center (ECC) or Public Safety Answering Point (PSAP) with a 911 call that consists of the valid street address of the calling party plus additional information such as suite, apartment, or similar information necessary to identify the location of the calling party adequately."
Additionally, suppliers, sellers, importers, and operators must comply with the RAY BAUM's Act when multi-line telephone systems are first supplied, leased, or installed following the effective date. Companies planning to migrate to a new phone system or that have made significant modifications to their current systems should consult with their IT and legal teams to ensure they comply. Even those using older systems want to ensure compliance to limit any potential risk.
#2. Going Further Than Just Dispatchable Location
To locate a 911 caller, a first responder may require information in addition to dispatchable information. For instance, first responders must be directed to the caller's location by in-building security, who will frequently be needed to grant them entrance to a structure. Some phone systems provide alert notifications if 911 has been dialed so that designated parties - security or administrators are ready to assist. Site personnel have maps that enable responders to quickly locate a caller's position if a dispatchable location contains an office wing or cubicle number. These maps may offer other useful information, such as the position of AEDs, the presence of elevators capable of supporting the transport of a stretcher, or the location of fire hose hookups. First responders might also gain access to security systems and cameras that allow them to observe inside a structure before entering a potentially dangerous scenario. Companies should consult with them frequently to determine what information local first responders want for the best response.
#3. Be Sure to Address Remote Workers Too
There has been a significant trend toward working from home during the past few years. Employees who work from home frequently make calls using the business's softphones or desktop phones. Companies must make sure that these endpoints comply with Kari's Law and the RAY BAUM Act and that dialing 911 from a corporate-provided telephone in a home office won't need a complicated process like logging into the phone or allowing a VPN connection to the company network. It is important to immediately locate and resolve any potential limits in 911 call routing and location sharing for remote workers (in accordance with the advice of legal counsel). The outcome could be devastating if an emergency occurs and these limitations were not properly resolved. For further information on E911 considerations for remote workers, check out our blog post here.
#4. Also, Address Mobile Phone Users
Businesses should be ready for the possibility—and maybe even the likelihood—that team members at facilities (and their visitors) will use their mobile devices to dial 911 rather than the business phone system. In this scenario, 911 operators might be able to determine the caller's broad address but probably not their floor or location within the building. Additionally, no one working in building security will be aware of the call. Fortunately, new products from suppliers like 911inform and its partners enable businesses to locate 911 calls made from personal cell phones and alert the proper authorities.
#5. Stay Up-to-date on E911 and other Safety Regulations for Businesses
Next Generational 911, commonly known as "NG911," is already a reality in several states, and more are about to follow. NG911 can overcome previous difficulties in endpoints' move/add/change tracking by assigning location control to the end device or user. Methods include acquiring location via network components or directly from end users. Additional features offered by NG911 include chat and video sharing with first responders. To grasp the plans for NG911 adoption, those in charge of 911 management inside their businesses should remain in touch with their ECCs (PSAPs) and monitor organizations like NENA and CISA. A complete solution is offered by switching to NG911, but each network section can do so at speed.
In addition to these five areas, businesses should actively maintain 911 location data in their phone system and do routine testing to ensure they provide accurate location information to ECCs (PSAPs). To guarantee uniform response across all sites, they need to make sure that 911 plans are connected with overall incident response management.
E911 management tactics continue to be supported by the requirement to give precise caller location information and additional data to the appropriate ECC (PSAP), which is also required to enhance responses in an emergency. To maintain compliance with relevant legislation, the demands of remote employees, and the possibility to further improve workplace safety through the migration to NG911, IT experts must keep up to date on new technological advances and shift their tactics when necessary.
Simplicity VoIP is committed to helping your business comply with all FCC and E911 regulations. Our newest platform upgrade, Version 42, addresses all regulatory requirements of E911, including:
Specific Dispatchable Location: Specific Dispatchable Location is emergency address data that can be assigned by domain, site, and the individual device level and can be as granular as "Floor 2, Office 204, the last cubicle at the end of the hall."
Address Detection and Verification: Devices in use are registered to the IP address (with an associated physical address) that is automatically detected by the system. When an IP address change is detected – either due to a physical address relocation or a circuit change - the user will be prompted to update their physical address so that the e911 data is kept up to date.
e911 Dialed Call Notification: Notifications that a 911 call has been made can now be sent to parties within the client's organization via an automated phone call, an email, or a SIP message that appears on the screens of supported phones.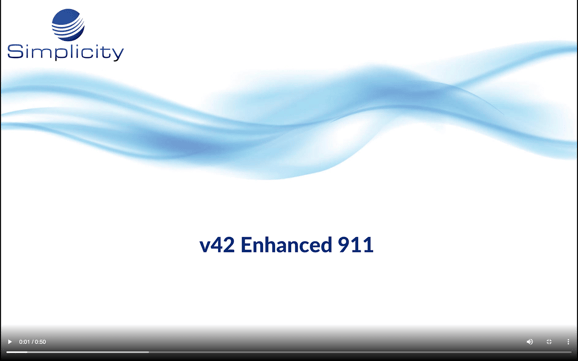 Still have questions? Contact our customer service team below! We are here to help!