Remote Work: How to Build a Productive Home Office
Do you feel like you need to re-vamp or set up a new and productive home office? You can design a home office that enables you to complete your daily tasks by incorporating a quiet area, a comfy chair, a practical desk, utilizing smart storage solutions, and prioritizing setting boundaries between your work and home lives. Check out these ten tips for setting up a relaxing yet productive home office for working from home!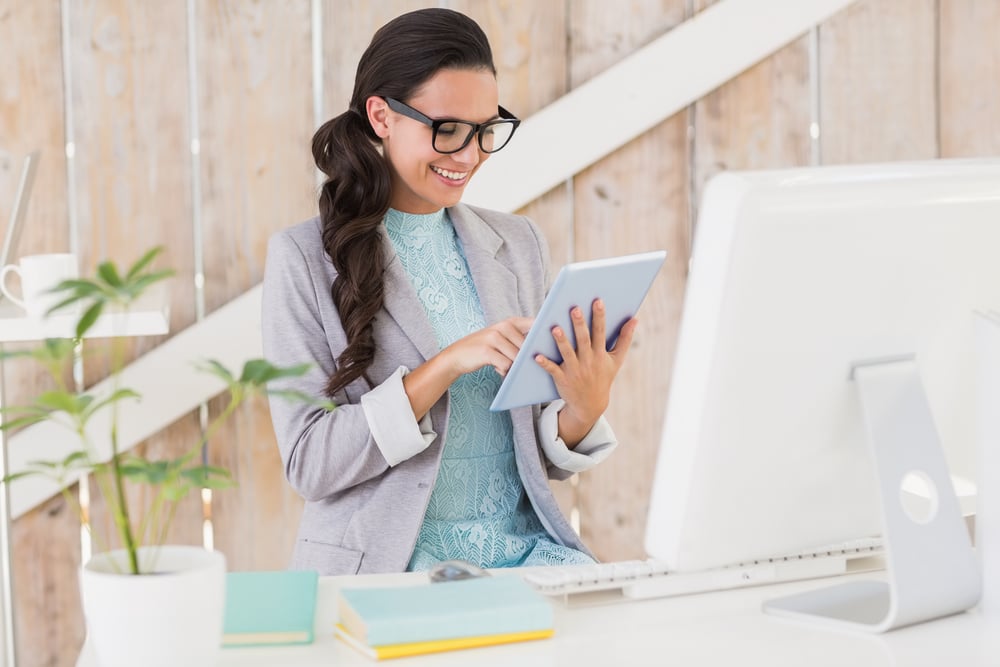 #1. Make an Empty Space YOURS
It's best to set up your home office in an empty space in your home, such as a spare bedroom, flex room, attic, or basement. Choose a quiet location free of distractions where you can professionally take calls, attend video meetings, and work without interruptions. Do you lack a spare room in your home? Set up shop somewhere out of the way in your house, or work from your kitchen or dining room table. Never work in your bedroom or living room at all costs; these areas are intended for rest and relaxation and should be kept that way to help you maintain a healthy work-life balance.
#2. If More Than One Person in Your Household Works From Home, Design the Space Together!
Does your partner, roommate, or child also work from home? Set up a shared office and design it together! A shared workspace can keep business (or even school) in one room rather than having multiple people working in various areas throughout your home. If you're concerned about becoming distracted while sharing a workspace with another person, consider installing dividers between workstations or arranging desks away from one another. Additionally, keep headphones nearby so you can tune out any noises and keep your officemate informed of any upcoming calls or meetings.
#3. Let the Light In
Proper lighting is vital for your home workstation so that your eyes do not become tired or strained while you work. Overhead lighting is adequate, but you can improve it by placing a desk or floor lamp near your workspace. Even better, when looking for a space in your home to work remotely, try to choose a spot near a window so that you can benefit from natural light. This provides good office lighting while improving your focus and overall mood while working!
#4. Choose a Desk That Fits Your Work and Personal Needs
When it comes to a home office desk, you'll want something large enough to house your computer, basic office supplies, and allow you to be comfortable. If you already have a desk that meets these requirements, that's fantastic! If not, numerous desk options are available from various stores, ranging from standing and writing desks to L-shaped and small corner desks. Whatever option you choose, ensure it's a reasonable height for your needs and compatible with your current office chair. (Keep in mind that a kitchen or dining table can also be a good substitute for a desk if you need to work from home in a pinch!)
#5. Invest in a Quality, Comfy Chair
When purchasing a desk chair for your home office, comfort is essential! Choose an office chair that is the right height for you and provides adequate back and arm support while you work. If you need a quick solution and don't have time to buy a new home office chair, look around your house for other chairs that could work for long periods of sitting. Maybe a dining chair or a living room accent chair. Test them out until you find one you like best.
#6. Declutter and Organize Your Work Space
Keeping your home office organized is one of the best ways to stay productive while working remotely. First, go through your office space and remove any unnecessary items, whether they are furniture, home decor, or office supplies. This will help you stay focused by eliminating clutter. Then consider how you can organize the items you require in your home office. Use a filing system to separate essential documents or files in a secure cabinet or desk drawer. Make use of a desk organizer to keep pens, highlighters, and sticky notes together. To keep your workspace tidy, keep large items like books and notebooks on shelves or in labeled storage bins.
#7. Take Breaks to De-Stress During Your Work Day
Many people find remote work difficult, especially when they share a home office or must care for children and pets while at home. That is why it is critical to incorporate some stress relief into your home workday. Perhaps it's as easy as lighting a soothing scented candle at your desk in the afternoon or opening the windows to let in some fresh air. It could be as simple as setting a timer to remind you to stand up and stretch every few hours. Alternatively, you could listen to music while working. Make an effort to design your workspace and workday so that you are happy and focused.
#8. Have a Planner You Will Actually Use
A calendar, chalkboard, whiteboard, or even a small daily planner in your home office is a simple solution for holding yourself accountable while working from home. This makes it easy to keep track of fast-approaching deadlines, meetings, and tasks while working remotely. Make a list of what's ahead and what you need to get done at the beginning of each day (or week), so you can stay focused, efficient, and productive from the comfort of your own home!
#9. Personalize Your Space
Do you want to spruce up your home office? Make your work-from-home office more inviting by incorporating items that reflect your personality or inspire you to do more creative work! Behind your desk, hang photos or wall art. Incorporate cute trinkets on shelves to add some color to your space.
#10. Put Work-Life Boundaries in Place
Because working from home lacks structure, it's easy for work and home life to start overlapping—something you definitely don't want to happen regularly. Set strict boundaries for your remote work to separate these aspects of your life. Establish your office hours and work only during those set hours. Close the office door (if you have one) to prevent children or pets from interfering with your work. It also helps if you do not eat or take breaks in your office. And stick to a routine to maintain consistency and help you stay productive throughout the day.
Any Simplicity customer can work from home for free using a desk phone, computer, or cell phone. Our softphone applications, such as our webphone or the SimplicityGO app, allow you to tap into your home's WiFi. Inbound calls can be routed to cell phones or webphone and reflect your work phone number. These softphone applications allow you to access contact lists, check messages, review call history, configure settings, text, and generally work remotely as done at the office with a desk phone and computer.
But it is much more than that.
Simplicity solutions paired with integrations automatically capture data and reports on CTI-enabled calling activity. Our system captures relevant data points from a given conversation and packages them into data logs for the leadership team.
You can read our case study featuring the partnership between Simplicity and the Aviation Institute of Maintenance, Centura College, and Tidewater Tech, how Simplicity GO enabled a successful launch of remote working, and how Simplicity GO has changed the way they conduct business!
Still have questions? Contact our customer support team for more information or further assistance!