Simplicity VoIP Welcomes Samy Abuswai
Richmond, VA - Simplicity VoIP, a leading provider of UCaaS solutions, is pleased to welcome Samy Abuswai to our US-based client services team for project management and technical support as a Support Level III Engineer. Abuswai brings a wealth of knowledge in technical support and VoIP technology.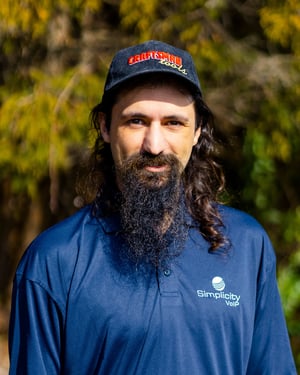 Abuswai joins Simplicity VoIP from BVoIP, where he served as a VoIP engineer on a multilingual team, delivering technology support for clients. Abuswai was responsible for designing and implementing VoIP solutions that included a wide range of configurations and integrations.

"We're thrilled to welcome Samy to our team," said Simplicity CEO Ben Humphreys. "He brings the expertise and enthusiasm that we need to deliver exceptional customer service as the company continues to grow."

Prior to working at BVoIP, Abuswai was the Network Engineer at Bardissi Enterprises. He was responsible for managing the design, installation, and management of organization-wide local area networks, wide area networks, network segments, and internet systems, which required a strong attention to detail and superlative commitment to customer service.

Abuswai specializes in VoIP technology and has extensive experience and knowledge in router and AP configuration, virtualization, CRM security, Adobe Creative Suite, and more! "Samy has demonstrated that he's passionate about technology and staying on top of emerging trends. That will undoubtedly be an asset to our clients," said Humphreys.


About Simplicity VoIP
Based in Richmond, VA, Simplicity VoIP provides hosted PBX, VoIP, and business telephone solutions to small, medium, and enterprise-level businesses across the country. We deliver a comprehensive, unified communications experience. Simplicity VoIP's key to success is its project management, on-site service, installation, and training, which is backed by world-class customer service. Our Class 5 VoIP platform is geo-redundant to ensure maximum network uptime. We also offer phones and equipment, managed services, video conferencing, call center, SIP, PRI, wireless back-up, VFAX, and more. To learn more, please visit www.simplicityvoip.net.