Tips and Tricks for Call Center Support Agents
Many businesses operate call centers so that their customers can receive fast, reliable, and great assistance for various reasons. If you are managing or running your company's call center, you will likely encounter frustrated, confused, or concerned callers (and agents, at times), and it is important to learn how to properly assist each of them and how to help most effectively.
Using the right approach, call center work, and leadership can be a rewarding experience and open the doors to other opportunities within the company or the industry. You will gain hands-on experience with customers, learn all of their likes and dislikes, lead entire teams, and be trained effectively in customer service and management. In this article, we will take a closer look at the ways to lead customer service teams, the mandatory duties of your call center customer support agents, and offer the best tips and tricks to help you become a more efficient, successful, and less stressed leader within your call center.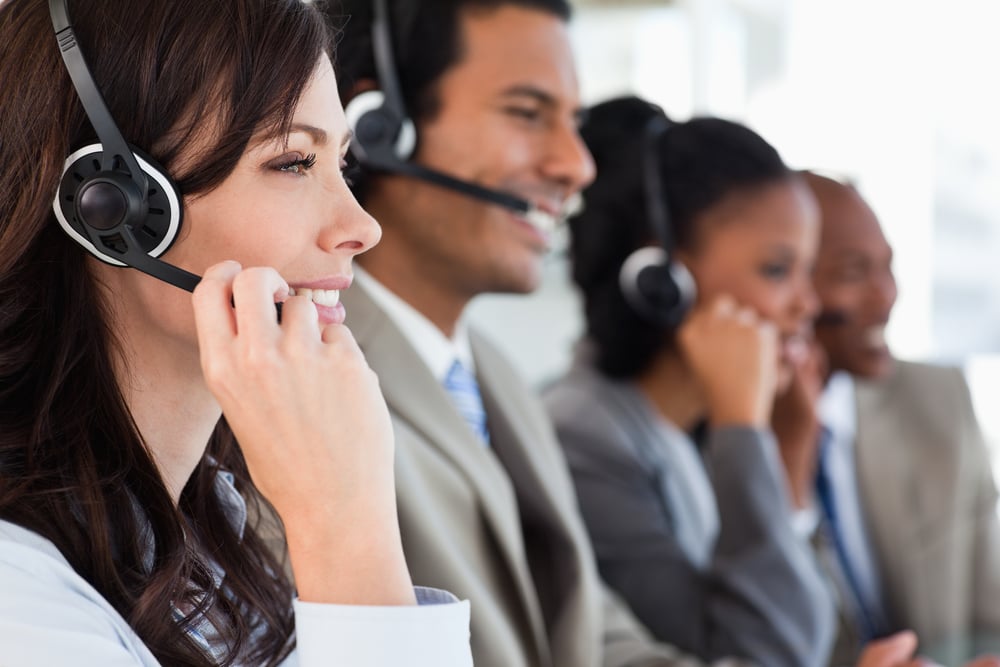 What Responsibilities Do Call Center Support Agents Have?
Call center support agents to answer all incoming calls to the business. The call context may include answering questions about products or services, placing orders, or filing complaints. The agents often multitask when working with customers to identify their needs, gain more information, or search for the best solution within the organization's database. Most of their workday involves caring for and assisting customers while interacting with them effectively. As a manager or supervisor, it is your responsibility to make sure all members of your team are doing their job effectively, efficiently, and following company protocols and procedures to ensure happy customers.
Tips and Tricks for Call Center Support Agents and Supervisors
Be Positive
As a team leader, it is important to offer positive feedback to your team members and allow each misstep to be viewed as a learning opportunity. There is no need to be negative, rude, or harsh. This can correspond to your team members and how they respond to customers.
Using negative language in a customer service situation often relays that nothing can be done for the customer. This is neither productive for the agent nor comforting. Using positive language and engaging in proper call etiquette is the key to a successful interaction. Proper call etiquette includes:
Keep the conversation light and upbeat by detailing how you can solve the problem.
Focus on the good outcomes- this enhances the customer's trust and motivates them to remain on the line.
Use positive phrases like "I would be glad to check on that for you" or "Let me find out right now for you," this shows the customer that you care and are eager to help them.
Remember that body language translates through the phone, so try to be positive while at work and assisting customers.
Introduce Yourself
As a supervisor, make yourself available and visible to your team and customers. This creates a sense of familiarity and friendliness. Make sure your team mirrors this quality as well.
Make sure your agents are introducing themselves to customers to ensure they are starting the call on a friendly and personal note. It can help the customer feel more comfortable, even if they are calling about a frustrating situation. It can be helpful to ask the agent to state their name as well to make the call feel more like a friendly conversation. Do the same if you are called in to support your agent during a call. Familiarize yourself with the customer.
Focus on Finding the Source of the Issue
As a manager running a call center, you are juggling a lot of responsibilities at once. There is no time to waste. When a team member or customer is describing the problem, "troubleshoot" the issues by asking the right questions about their specific inquiry. Asking the right questions will allow you to assist each person more effectively.
Restate the Problem Back
For both your team and your customers, make sure you completely understand the problem at hand. Be available and actively listen to your team members. Restate the problem they are experiencing so they feel you are empathetic and understand their issues. This process will inspire them to do the same to customers as they try to solve their problems. Whether an agent or a customer, when the problem is restated, it gives the opportunity to mention any further details they may have missed previously.
Be Patient
While seemingly obvious, it can be very important to be aware of your sense of patience. Call center work and customer service are often aggravating lines of work. Patience is vital to de-escalate frustrations and support your team and customers effectively.
Stay focused on progressing the interactions, resolving issues to the best of your ability, and staying focused on the solution and not the problem; this allows you to resolve the issue more quickly.
Respect the Customer's Time
Customers and your team are both busy, so be sure to emphasize time consideration when training your team. The customer expects agents to be able to resolve their support problems in a convenient time frame. According to a survey conducted by Zendesk, 51% of customers expect agent support within 5 minutes of calling.
Train your team members to aim to answer every call within two to three rings; emphasize that you and other members of the team are there to offer support, and everyone should be working together to assist the customers and respect their time. To further reduce issue resolution time, craft a go-to list of common support questions and the answers for your team (on paper, email, etc. wherever is most convenient and easy for the individual) when answering calls.
It can also be beneficial to compile a list of several available resources for your agents to send to the customer after the call is completed. If there are helpful articles or video tutorials that the customer may find useful to solve problems independently, share those with them! Your team and call center can better assist customers and resolve issues quickly when resources are available.
Relax
In nearly every customer-facing role across industries, companies and supervisors often provide their teams with various scripts to aid in the training process. While these scripts are beneficial, every situation is different. Emphasize to your team that these scripts should be thought of more as a guide and not taken word-for-word.
If a member of your team is super focused on following the script, the call may seem disingenuous and robotic. Work directly with them, encourage them to keep the call light and conversational by showcasing their personality and adding a personal touch to scripts and calls. Finally, encourage your team to check in with the customer regularly during the call to make sure they understand everything being relayed. This will keep the conversation two-way and less like a lecture for the customer.
Sometimes you can even leave a script for the auto-attendant that may be directing caller traffic. If this is the case for your business, check out our previous blog, "How to Create an Effective Auto Attendant Script," here.
Encourage Breaks
Sitting at your desk within the call center can undoubtedly take a toll on the mind and body. Be sure to offer enough breaks for your team to be able to perform at their best. It helps the agent reset their mind, feel more relaxed, curb distractions, as well as improve their overall productivity and satisfaction.
Respect Employee Personal Time
It is no surprise that working an inside desk job, answering calls can be a monotonous job. Despite its potential, it can be difficult and stressful at times. It is essential for workers to, have set schedules, and to take time for themselves outside of work (and you should do the same as a team leader).
Once your workday is complete, you probably have other responsibilities to take care of, like home chores, childcare, pets, and more. It can be easy to fall into a routine of ignoring taking care of yourself because you are constantly running a team. However, you will be much happier and healthier if you take the time to indulge in activities you enjoy and not just the ones on your to-do list. Take time for yourself and encourage your team to do the same!
For more information on why VoIP is one of the leading technologies in call centers, click here.