Comtel & Simplicity VoIP Leadership Attend Premier Industry Trade Conference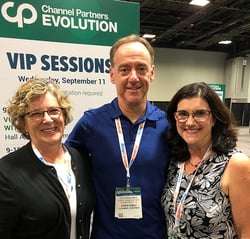 Last month, Pete Kraehmer, VP of Enterprise Sales, (center) Amy Humphreys, VP of Marketing and Agent Enablement (right) with Emily May, Marketing Manager, (left) represented Comtel Communications and Simplicity VoIP at the Channel Partners Evolution conference in Washington, D.C. Meeting with top tier-one providers, including Verizon, AT&T and CenturyLink, and many other key providers in our 200+ portfolio, one goal was to deepen our relationship and further support for our partners and clients. In addition, the show was an opportunity to learn about cutting-edge technology and solutions being brought to market.
Key take-aways:
5G is coming and will be a true gamechanger to the ways businesses function
Security continues to be a provider focus with many innovative, affordable solutions being offered to all sized businesses
Provider systems for quotes, order processing, provisioning and post-sales are becoming streamlined and easier for partners and clients to navigate
Cloud adoption is still strong and gaining momentum
UCaaS is not a preference but an absolute need as more workers are on the go, working remotely and need to collaborate in this new age of business
As always, the conference was a time for the team to reconnect with longtime colleagues as well as make new connections. "It's always inspiring to learn of new solutions and ways providers are adding value to our partners and clients," said Amy Humphreys.
Pete Kraehmer reported, "UCaaS, Cloud, and security solutions continue to evolve, which is good news for our current and prospective clients."