How Much Bandwidth Do You Really Need?
Today's applications demand more bandwidth than ever. IT professionals constantly find themselves in the position of having to respond to those bandwidth needs reliably and affordably. To accurately determine how much bandwidth your business needs, you need to assess the factors that impact network performance.

Consider the following:
How many people use the network?
What is the network used for?
Are employees accessing applications in the cloud or in a data center?
Do users connect to branch location via a wide area network (WAN)?
What core applications are running and how bandwidth intensive is each? (e.g. email versus video streaming)
Are secure virtual private network (VPN) connections needed?
Does your company need encryption for compliance purposes?
Bandwidth Comparison Chart: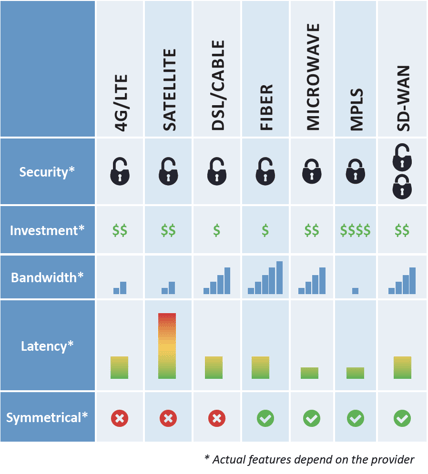 Image from ecessa.com*
To best review your business's bandwidth needs, confer with an expert. An agnostic technology agent or consultant can ask the right questions to determine what you need, help you gain a deeper overview of the wide range of solutions available and how each one fits in with what you're trying to accomplish. In addition to assisting you with procurement, they can also handle ongoing care.
Comtel Communications is a full-service consulting agency that utilizes an agnostic approach. As a compliment to its business communications solutions, Simplicity VoIP offers a consultative approach as well as a host of additional cloud and security technologies.
Information from ecessa.com*
About Simplicity
Simplicity VoIP, based in Richmond, VA, provides hosted PBX, VoIP and business telephone solutions nationally to small, medium, and enterprise-level businesses for a comprehensive unified communications experience. Two distinct Class 5 geo-redundant VoIP platforms are offered in addition to fax-to-email, phones and equipment, and managed services. Named as Richmond's 11th fastest growing company by Richmond BizSense, Simplicity VoIP's key to success is its on-site service, installation and training supported 24/7/365 by a world-class client services team.