Simplicity VoIP Opens New Virginia Beach Office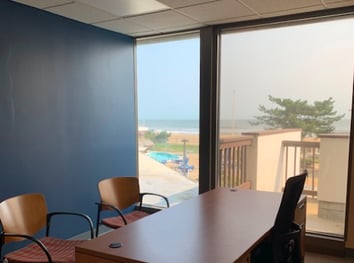 At the end of September, Simplicity VoIP opened a new satellite office in Virginia Beach, Virginia. The office serves a myriad of purposes including supporting its extensive Tidewater base of current clients by providing additional technical resources and consulting.
These resources are now more readily available to current and prospective clients assisting local sales representatives' activities in Virginia Beach and its surrounding areas to implement new features like Simplicity's v41 software upgrade. Further, as integrations between CRMs and phone systems have increased in demand, Simplicity's technical resources are ideally placed to participate and provide expertise in these business discussions.
With a scenic view of the oceanfront, team Simplicity is thrilled to have this addition.
Larry Sims, Vice President of Network Engineering, is based out of the office. He oversees Simplicity's Class-5 hosted VoIP switch as well as the development of new features for the Simplicity platform. Also serving the Tidewater market is Pete Kraehmer, Vice President of Enterprise Sales.
Find out more about Larry and Pete on our Teams page.
Simplicity's Virginia Beach office is located at 4007 Atlantic Avenue, Suite 201, Virginia Beach, VA 23451-2605 and is open for business!
If your company is interested in finding out more about how Simplicity VoIP and our Virginia Beach team can support you and your business communications efforts, contact Simplicity today.