Boost Productivity with a Cloud-Based Phone System
A reliable phone system is a must to communicate and collaborate in today's business world.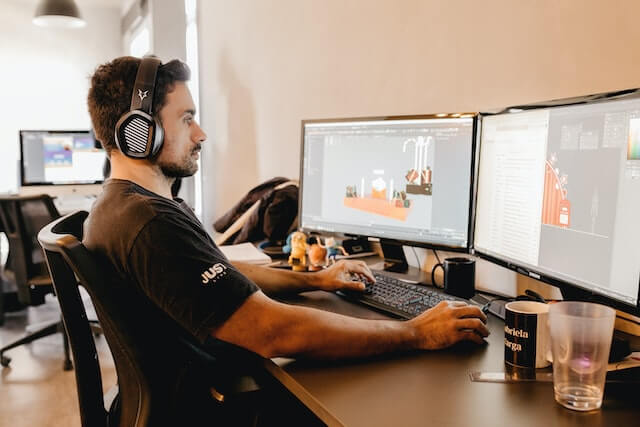 With the rise of remote work and virtual teams, many businesses turn to cloud-based phone systems as an alternative to traditional on-premises ones. Voice over Internet Protocol (VoIP) technology transforms how businesses communicate with customers; the list of benefits of VOIP solutions is long.
How does a cloud-based phone system help your business and your customers?
Automatic call routing to the appropriate department or agent based on the customer's needs. Customers don't have to wait on hold or be transferred multiple times to reach the right person. As a result, customers can get the help they need quickly and efficiently, improving their overall experience with the business.

VoIP helps businesses reduce costs, resulting in more competitive customer pricing. With VoIP, companies can make long-distance calls for free or at a much lower cost than traditional phone lines and other solutions are bundled in like texting, audio conferencing, and voicemail. This can result in significant business cost savings, which can be passed on to customers through lower prices.

The ability to scale and expand to fit the needs of the business is another plus. Adding or removing phone lines, features, or users is simple and can be done with a few clicks. This makes it easy for businesses to adapt to changes in demand or scale their operations as they grow or need to adapt.

Cloud-based phone systems can be more cost-effective than traditional phone systems. There is less hardware and less or no maintenance fees; businesses only pay for their needs. This can lead to significant cost savings for businesses.

VoIP technology enables businesses to personalize their service to customers. With features like call recording and monitoring, users can review past calls to understand a customer's needs and preferences. This information can be used to tailor the customer's experience, making them feel valued and heard.
How does a cloud-based phone system help your teams?
Cloud-based phone systems allow employees to work from anywhere on a variety of devices - computer, tablet, or mobile phone, as long as they have an internet connection. Employees can work from home while traveling or at a client's office. With the ability to work remotely, employees can be more productive, and businesses can save on office space and equipment costs.

VoIP technology can integrate with customer relationship management (CRM) software, giving users easy access to customer data. Users can quickly retrieve their customer history, previous interactions, and preferences when a customer calls. This helps users personalize the customer's experience, anticipate their needs, and resolve their issues faster.

VoIP technology allows employees to collaborate more easily. They can use features like video conferencing, call transfers, and instant messaging to work together to resolve customer issues. This improves efficiency and helps users provide faster, more accurate customer solutions.
Boosting Productivity with Cloud-Based Phone Systems
With the above benefits, cloud-based phone systems have several advantages and significantly improve productivity. Here are some ways that cloud-based phone systems boost productivity:
Streamlined communication and collaboration: Cloud-based phone systems make it easy for employees to communicate and collaborate. They can share files, screen share, and even video conference from anywhere. This makes it easier for teams to work together and complete projects faster.

Automated call routing and handling: Cloud-based phone systems can automatically route calls to the right person or department. This eliminates the need for employees to spend time transferring calls or figuring out who to send calls to. This reduces customers' time on the phone, creating a more efficient customer experience.

Improved customer service: Cloud-based phone systems can improve customer service by providing call queuing and recording features. This makes it easier for businesses to handle high call volumes and ensure customers are satisfied with their experience.

Enhanced data and analytics: Cloud-based phone systems provide businesses with detailed data and analytics on call volumes, wait times, and more. This can help companies identify improvement areas and optimize their operations for maximum efficiency.

Upgrading Your Phone System
One of the most significant benefits of a cloud-based phone system is its increased mobility and flexibility. With a cloud-based system, employees can make and receive calls from anywhere with an internet connection using their mobile devices or laptops. This means they can work from home, on the road, or at a client's office, without disrupting their work. On the other hand, traditional phone systems require employees to be physically present in the office or use a designated phone line, limiting their mobility and flexibility.
Business VoIP systems are generally more reliable and secure than traditional phone systems. Cloud-based systems are built on redundant architecture, meaning that if one server goes down, another server automatically takes over. Mobile applications and Wireless backup further ensure businesses have uninterrupted phone service, even during power outages or other disruptions. Additionally, cloud-based phone systems are protected by robust security measures, including firewalls, encryption, and multi-factor authentication.
Choosing the Right VoIP Phone System
Here are some factors to consider when selecting a cloud-based phone system:
Features and functionalities: Look for a cloud-based phone system that offers the features and functionalities that your business needs to improve productivity.

Reliability and uptime: Make sure that the cloud-based phone system you choose has a reliable uptime and can handle high call volumes.

Customer support: Look for a business VoIP provider that offers excellent customer support and can help you troubleshoot any issues.

Integration with other business tools: Consider whether the cloud-based phone system integrates with other business tools and applications that you use, such as CRM software or project management tools.
In conclusion, cloud-based phone systems can significantly boost productivity in businesses. They offer increased mobility and flexibility, seamless scalability, cost-effectiveness, advanced features and functionalities, and more. They streamline communication and collaboration, automate call routing and handling, improve customer service, and provide enhanced data.
Simplicity VoIP has cloud-based phone system solutions that can help improve your business's productivity combined with a customer service team that goes the extra mile. Contact us today to learn how Simplicity can help you make the most of your cloud-based phone system.