The Real-Life Cost of Cyber Attacks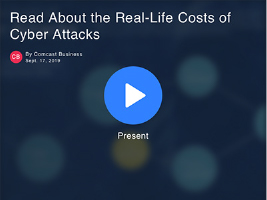 Cyber attacks on small businesses are a common occurrence. While smaller organizations often lull themselves into thinking cybercriminals aren't interested in them, reality is quite different. It's true the biggest headline-grabbing hacks typically involve large companies, but anyone could be a target. Hackers don't discriminate by size. Skim the slides, it'll take just take a minute. It's eye opening to realize our vulnerability each day.
-Special Thanks to Comcast Business SecurityEdge
Comtel Communication, a telecom/technology consulting agency based in Richmond, Virginia since 1991, provides best-in-class solutions and unbiased counsel to a diverse group of small, medium, and enterprise-level businesses. With more than $18.2M in annual billings under management, Comtel leverages unique access to 350+ national and international providers offering its clients competitive quotes from multiple sources to ensure their business goals are met with current and dynamic telecom and technology services. Long after contracts are inked and services are deployed, Comtel offers superb back-office support to clients to manage upgrades, track orders, and provide support escalation.
Simplicity VoIP, based in Richmond, VA, provides hosted PBX, VoIP and business telephone solutions nationally to small, medium, and enterprise-level businesses for a comprehensive unified communications experience. It's Class 5 geo-redundant VoIP platform is offered in addition to fax-to-email, phones and equipment, and managed services. Named as Richmond's 11th fastest growing company by Richmond BizSense in 2017, Simplicity VoIP's key to success is its on-site service, installation and training supported 24/7/365 by a world-class client services team.